5 Outdoor Living Must Haves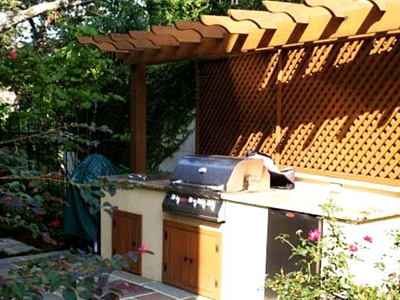 There is no doubt that homeowners are placing a lot more importance on the outdoor areas of their properties. And it is no wonder because we have transformed so many properties over the years and enabled people to extend their living space into the outdoors in style! At Nolascapes we understand that people like to entertain in the comfort of their own homes, but they also like to utilize their space for family time and simply to relax. There are 5 popular outdoor living must haves and they include the following additions:
Outdoor Kitchen
From new construction to remodeling, we always strive to bring greater value to your outdoor living space with our outdoor kitchen design and installation services. We always focus on increase your property's value, increase energy savings, and create an entertainment space by designing the perfect kitchen for our clients' outdoors. Basic island design, L-shaped island, U-shaped island, or custom-designed outdoor kitchens, we can work with all designs and styles. Besides, our experienced hardscaping crew can build the place using any material of your choice. Our designers and architects will also provide our inputs to match the materials and designs with your outdoor living space.
Outdoor Fireplace
Installing an outdoor fireplace in your yard area is one of the best ways to add the comfort factor to the space. When you have a fire feature installed in your landscaping, it automatically allows you to use these outdoor areas optimally even during the colder months. However, the outdoor fireplace also needs to be designed perfectly and built using good quality materials so that it lasts for a long time. When we design and plan this feature for you, you can rest assured you will get a stunning fireplace that will be the focal point of your landscape.
Outdoor Firepit
Well-designed outdoor firepits create beautiful space for entertainment and relaxation. We design and build outdoor fire pits and fireplaces to add more depth to your outdoor living area. Our experienced crew can add a beautiful and functional focal point to your outdoors. Imagine any size, shape, style, or material, and we can build it. Every fire pit we design is customized to our client's preferences and their landscape. Choose from the standard rectangle, square, and circular shape, or let us design a unique shape of your choice. From 3 feet to 6 feet in diameter, we can design and build fire pits of any size. And from stone to pavers to stacked blocks, you can choose any material.
Outdoor Pergola
A pergola is a remarkably simple structure; it is made of four posts that support a grid of battens at the top. This feature can be installed just about anywhere in your yard. Some homeowners like to get it installed on their patio or deck, while others get it installed above a section of a pathway or walkway or even in one corner of the yard.
While this structure provides only a certain amount of shade and protection from the sun's rays, you can always get a retractable roof or shade sails attached to the top grid. This will provide sufficient protection from the elements and will allow you to use these spaces even when the sun is shining brightly or when there is light rain. The pergola can be built of wood, vinyl or metal and we can custom design the feature for you.
Outdoor Patio
A beautiful patio is at the heart of your outdoor lifestyle. It sets the backdrop for the hardscaping, all your furniture choices and settings, and everything else you like to add to your outdoor living area. From designing to making the choice of materials to the installation and completion, we will take you through each step of the process. You may want to install a new patio or replace an old one, we can help. We deliver well-planned patio design and installation solutions on time and within the agreed budget. We rely on our vast experience to create functional and beautiful patios.
Contact the professional outdoor living experts here at Nolascapes today on 504-330-8479 and we will get on the road to the outdoor living space of your dreams!
Areas We Service in Louisiana