Fiberglass Pools Versus Concrete Pools
Cost Comparison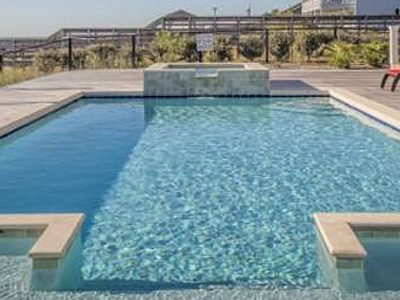 When it comes to cost, the initial cost of a fiberglass pool compared to a concrete pool is similar. However, you will have to wait a lot longer for your concrete pool to be installed than a fiberglass pool. If you choose a concrete pool you will have a lot more design options than a fiberglass pool. You can really have any shapes, sizes, and any extra features you desire in a concrete pool. This is where the cost of your concrete pool can significantly increase when compared to a fiberglass pool. Fiberglass pools are more limited, for you generally choose from a range of shell shapes, sizes and designs available.
Installation Time
Fiberglass pools take a lot less time to install when compared to concrete pools. Fiberglass pool shells are chosen from a selected range offered by the manufacturer. The shell is then produced the factory and delivered to your property ready to be installed. The excavation is then carried out to fit your chosen shape into the ground. A concrete pool is more complex for the pouring and the setting of concrete is much greater in terms of installation time. So overall, a concrete pool installation is much more time-consuming and more complicated.
Maintenance Comparison
Overall a fiberglass pool requires fewer maintenance costs compared to a concrete pool. A concrete pool will need to be resurfaced every 10-15 years which can be awfully expensive. Because it has a porous surface, concrete pools may allow more algae growth which will require more chemicals to control. A fiberglass pool has a smooth surface which limits the growth of algae.
However, a fiberglass pool can end up costing a lot more over time more if it needs to be pulled out because it is unsolvable. Sometimes fiberglass pools just cannot be fixed like a concrete pool can be resurfaced and brought back to life. Concrete is a durable material, built to last!
Long Term Benefits
A fiberglass pool has a much smoother surface, whereas a concrete pool can be rougher and cause scrapes and cuts if not surfaced properly. However, a fiberglass pool can bulge or crack if not installed correctly. Also, the water in a fiberglass pool heats up quickly and retains heat for longer than does a concrete pool. Both types of swimming pools will increase the value of your property and add an abundance of aesthetic appeal. You will also find yourself and your family spending much more time outdoors enjoying your new lifestyle!
It really is a personal choice, when it comes to choosing between a concrete or a fiberglass swimming pool. Contact the team at Nolascapes on 504-330-8479 today and we will discuss the pros and cons of Fiberglass and Concrete pools with you!

Areas We Service in Louisiana