Concrete
Don't let your cracked concrete bother you anymore. Whether an existing area needs a facelift or you need to expand, NOLASCAPES is your one-stop shop. We offer the most unique options in the area with both new and old techniques. We can customize your project.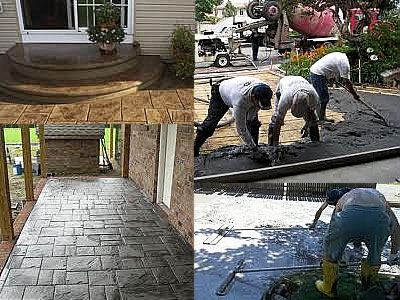 Our Services Include:
Pouring Driveways, Patios and Walkways
Cleaning Concrete
Engraving Concrete
Acid Staining
Garage Floor Coatings
Concrete Overlays Interior/Exterior
What is Concrete Overlay?
Overlay is a process of placing a thin layer of cement, rubber, or aggregates into an existing surface for increased durability, improved cosmetic appearance, and flooring maintenance. Concrete overlay can be used for almost any concrete resurfacing projects such as pool decks, garages, patios, interior wood floors, vertical surfaces, and foundations.


When to use Concrete Overlay
Do you have an existing concrete surface but you are not too happy about it? This can either be because of surface imperfections or because it is just too plain for you. The answer to this problem is usually getting rid of the old concrete and replacing it. With concrete overlay, you can easily give your concrete a facelift without having to spend too much money.


Types of Concrete Overlay
There are various options when speaking of concrete resurfacing. The most popular of all are the following:


Stamped. This is applied thickly to the surface, usually from 1/4 to 3/4 of an inch. This kind of overlay works to cover minor imperfections on concrete. The good thing about this kind of overlay is that it can be stamped or textured to look like slate, natural stone, brick, and other materials. It can even come tinted or dyed.


Spray texture. This is a textured finish (1/8 inch) and is durable as well as skid-resistant. This makes this concrete overlay ideal for pool decks, driveways and sidewalks. Spray texture can also be dyed or tinted for decorative purposes.


Micro-topping or skim coat. This is a polymer-based system that is applied very thinly to a surface. This gives the surface the ability to flex and the ability to be applied onto wall surfaces as well. It can be finished either smooth or textured. For decorative purposes, micro-topping can be accented with stains and dyes.


Self-leveling. This kind of concrete overlay is chosen for restoring worn concrete surfaces. A self-leveling overlay can even work to level uneven floors. It can be engraved, stained, or dyed for aesthetic purposes.


Rubber. This is basically a new system when it comes to concrete overlay. However, rubber is seen to be a safe, maintenance-free, environment-friendly, and easy to install overlay.


Choosing an overlay for your concrete facelift needs depends basically on your preferences, concrete needs, and budget. Basically, as long as the repair needs of the concrete floor are met, overlaying is still a very cost-effective step.

NOLASCAPES is a residential and light commercial concrete company located in New Orleans. We service all of South East Louisiana. Through a strong combination of tireless work ethic and intelligence, we offer concrete, retaining walls, driveways, countertops, patios, and more. We also offer premium services including colored and stamped concrete. Give us a call for your free estimate.

View our Concrete gallery »
Areas We Service in Louisiana