Pool Decks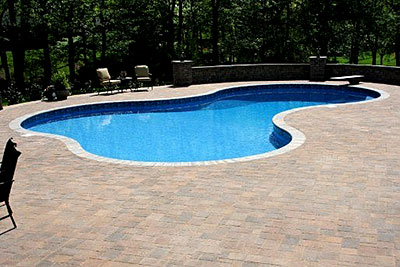 Nolascapes Landscape and Design focuses on perfection. We are dedicated to premium products crafted to be part of a beautiful home. We will transform your backyard swimming pool into an inviting oasis that is truly a delight for the senses. We provide you with the ability to create a one-of-a-kind work of remarkable lasting beauty for the pool deck of your dreams.

Searching for the perfect weekend trip or even an everyday getaway could be difficult; it might surprise you, but you could find it quietly hiding in the comfort and practicality of your own backyard!

Nolascapes Landscape & Design starts any outdoor living space with a strong foundation. Pool decking and other outdoor decking are integral to the design. Decks and paving provide dimension and physical boundaries. Custom decking and other architectural features frame the area like a painting so that all of the focal elements are highlighted.


Backyard Deck Ideas
Many people look to their backyards as a private oasis, and this would not be possible without the proper decking and pathways. Nolascapes gives you the flexibility to select decking that ranges from natural to sleek and contemporary. A successful foundation begins with materials that complement both your personal style and the surrounding architecture and backyard landscape.

When it comes to customer service and affordability, WE WILL NOT BE BEAT!
CALL TODAY: 504-330-8479.


The Beauty and Practicality of Pool Deck Pavers
Nolascapes Landscape and Design transforms backyard swimming pools into an inviting oasis that is truly a delight for the senses. We provide you with the ability to create a one-of-a-kind work of remarkable lasting beauty for your pool deck. Due to modern manufacturing techniques giving pool deck pavers unsurpassed beauty, strength, durability and now affordability, they have become the number one choice for those upgrading or building swimming pool decks.

Outdoor flooring made of pavers, stamped concrete or laid stone is remarkable choices. Decking can be laid with a more natural flow with earthy tones, or a more dynamic and elegant approach can be created with strong lines of brick.

We can help you choose the right stone that is both sturdy and appealing. Stone, tile, brick, wood and concrete are brilliant choices due to their range of colors, texture, patterns and durability. Decking materials can be used to connect and create a flow between areas of your backyard. From the garden to the pond, the pool to the spa or the kitchen to the dining room, each of these areas will need a path that directs movement.


Concrete Pavers a Good Choice for Pool Decks
Concrete pavers are a great option for pool decks because they are durable, slip-resistant and can provide the look of natural stone. They have many qualities that make them the perfect choice for pool deck paving options. They are salt resistant, slip-resistant, and chlorine will not affect their colors. Around pools, the joints between the pavers will take on moisture leaving them cooler underfoot.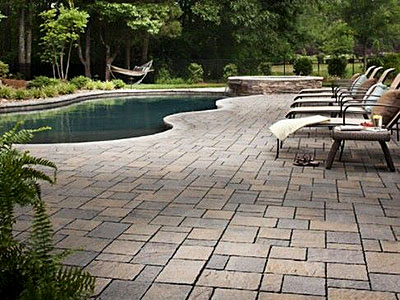 Concrete pavers also come in a wide array of colors, shapes and sizes, permitting you to create design schemes that complement your pool's shape and style.

You can also use the pavers to build raised seat walls, pillars or planter boxes that will coordinate with the pool deck itself.

Another advantage of using pavers for pool decks is that they can be spot replaced, if necessary. If there is a problem with plumbing or electrical, you can lift the pavers and perform your repair. Also, if you want to add on to your pool deck at a later time, it's easy to install matching pavers and create a seamless transition. Pavers offer great long-term value because of their ease of maintenance and resistance to cracking and settling.

When it comes to customer service and affordability, WE WILL NOT BE BEAT!
CALL TODAY: 504-330-8479.


Pool Deck Plans
Our clients are not only amazed at our pool plans, but they are also in awe of the kind of pool decks that we create for them. A pool deck usually highlights the swimming pool so we carefully design and build it to ensure that it complements the overall theme of the area.

The pool decks that our team builds are not only created to please people, they are also built with safety and functionality in mind. They are designed to be a place where you can spend quality time with your loved ones or an area for relaxation after a splash in the swimming pool, or used in other activities such as pool parties.


Swimming Pool Decks have Special Requirements
The swimming pool area is always incomplete without the deck. It is an essential element that can never be left out because of its many practical functions. Swimming pool decks instantly add a surface for more enjoyable pool time. This surface can be a place for comfortable sun lounges, a great place for a romantic two-seater coffee table, or a barbecue pit for everyone's delectable enjoyment. But a pool deck can only serve these purposes if it is made of durable and safe materials.

What makes pool decks in need of special attention is their constant exposure to moisture. Thus, materials used for constructing them must be slip-resistant and can excellently handle extreme heat and water exposure. The deck materials should also compliment the entire outdoor area.

These are some of the reasons why Nolascapes recommends only the best materials for building pool decks. We use concrete brick pavers and natural stones. Besides durability, these materials are flexible and meet any design requirements. Natural stones like flagstones give that calming, classical, and natural appeal while brick pavers add a nostalgic look of the old world. However, there are some brick pavers that are funky enough for wild pool deck ideas. Stamped concrete can also be used for many styles or for a formal flair.


Pool Deck Remodeling - Another Nolascapes Specialty
Not only does Nolascapes Landscape and Design create new pool decks, we also remodel existing pool decks. There are many colors, shapes, and sizes that you can combine to create the perfect and ideal pool deck. We have a wide array of materials and pavers, ranging from New Orleans to the North East. If you want it, we can get it.

When it comes to customer service and affordability, WE WILL NOT BE BEAT!
CALL TODAY: 504-330-8479.

While it is essential that your pool deck is safe, giving the area a clean, polished look may also be a good idea. The professionals at Nolascapes can kill two birds with one stone thanks to our pool deck remodeling services.

Not all pool decks are created equal and sometimes may not be exactly what you need for your family. For instance, concrete slabs have a tendency to shift, crack and chip, while pebbled concrete can lose its texture over time. Additionally, ceramic tiles can be incredibly slippery when wet, which can be dangerous if you have little ones running around. If you have noticed any of these issues, give us a call today to remodel your pool deck.

Choosing the right company to create an astonishing pool deck is critical to achieving the right results. Our clients have done a lot of research before hiring us, and we like to think that's why Nolascapes Landscape and Design is chosen more often than not.


Why Nolascapes is the Best for Pool Deck Designs
Pool decks are a great way to enjoy outdoor living and relaxation. Through industry experience, customer understanding, and employee dedication, our family-owned and operated business consistently provides the best customer service. Whether you have a need for practicality, functionality, or simply a wish list, our team of dedicated professionals has innovative design ideas and solutions to capture your home's unique character and reflect your individual lifestyle. With Nolascapes, no detail escapes our notice.

Our company is recognized for designing and building custom swimming pools, and we are likewise considered experts in creating beautiful and functional outdoor living spaces.

You add to this our partnership with leading pool and spa manufacturers in the country and you get the best pool deck renovation and construction company in the state.

With all these fine qualities, you can be assured that we will make your outdoor living experience more fun and relaxing.

Don't hesitate to call us for any of your pool deck renovation and construction needs. We serve residential and commercial clients all over the Greater New Orleans area. Our previous clients can attest that we can really fulfill our promise - to give every client a relaxing pool area with stunningly designed and built pool decks.

Creating extraordinary pool design plans is the expertise of Nolascapes Landscaping & Design LLC. We use our years of experience in the industry and the creativity of our pool designers to come up with beautiful and long-lasting water features for our residential and commercial clients. The pools that we have designed and built for our clients in New Orleans and other cities in Louisiana are not only exquisitely designed but also built to last a lifetime. They are built by our seasoned craftsmen using the finest materials available. If you also want to have a perfectly designed water amenity, just call us at 504-330-8479 or visit us at our office to talk with one of our pool experts.


Custom Pool Designs
Our primary goal at Nolascapes Landscaping & Design LLC is to create water amenities that clients will love and enjoy. We achieve this goal by making customized designs for our clients. We make their pools extraordinary by incorporating their needs and design preferences. We also consider the existing architecture of the home or property to achieve a cohesive design plan. We may create a traditional pool or a more modern style to suit the personality of our clients. We may also add other exciting features to make it the perfect spot for rest and relaxation.

Here are some of the pool design plans that we typically build for our clients:


resort-style pools
infinity edge pools
lap pools
pool and spa combo
traditional pool designs
water feature pools
Choosing the Right Pool Design and Type
There are a lot of factors that must be considered when designing swimming pools. One is the type of material used in pool construction. Many property owners would choose concrete pools because of their long-lasting quality. However, the durability of this type of pool largely depends on the design and skills of your contractor. But if you choose well-experienced pool designers like us at Nolascapes Landscaping & Design LLC, you can surely get durable and low-maintenance pools. Another great option is a fiberglass pool design. This type is easy to install, requires fewer maintenance efforts, and can last for years. You can also choose from the different styles and shapes that will suit your design taste and needs.

To get your dream pool design, hire the services of a well-known and trusted pool designer like us at Nolascapes Landscaping & Design LLC. If you are from New Orleans or the nearby area, contact us today.

When it comes to customer service and affordability, WE WILL NOT BE BEAT!
CALL TODAY: 504-330-8479.

View our Hardscape gallery »
Areas We Service in Louisiana