Concrete Pools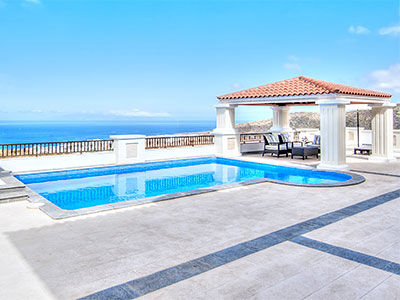 Concrete pools offer property owners plenty of surface finish options – be it pebbles, tiles, mosaic, or other decorative materials. The pool structure is built using strong, durable concrete, but the external surface can assume just about any design imaginable. These outstanding qualities are just some of the reasons why this is the preferred pool type of many homeowners and business owners in New Orleans, Uptown, Jefferson, and surrounding areas.

If you also want to have a professionally designed and installed concrete pool on your property then call Nolascapes Landscaping & Design LLC today. We are one of the top concrete pool builders in Louisiana. Homeowners and property owners can count on us for any pool project. From typical pool design to custom-designed concrete pool, we guarantee that the result will be a beautifully designed pool that can withstand the test of time. We comply with quality and safety standards, so our pools are proven durable and long-lasting. For an initial consultation, call us at (504) 250-3910.


Durably-Built Concrete Pools
Nolascapes Landscaping & Design LLC has seasoned builders who can design and build durable concrete pools. We use modern masonry equipment when building different types of pools for our Louisiana clients. We highly recommend gunite pools since they are proven long-lasting. The concrete framework provides durability and strength to the design. Once we finish installing your concrete pool, you can expect a stunning water amenity that can last for years with minimal maintenance efforts.

To ensure the durability of our concrete pools, we follow systematic procedures and follow industry standards. Some of the tasks that we do include but are not limited to the following:


Planning and layout
Excavation
Installation (concrete, steel, plumbing, etc.)
Equipment setting
Gunite application (or shotcrete if preferred)
Tile and coping installation
Interior finish application
Personalized Concrete Pool Designs
Your concrete pool can be custom-built according to your needs and specifications. The project may take longer to construct compared to fiberglass or vinyl, but you will certainly enjoy choosing from the different design, shape, and size options. Whether you prefer a kidney-shaped, irregular-shaped, infinity or lap pool, a concrete pool can show off your artistic side and become a focal spot in your property. The pool's design flexibility allows us to create unique, personalized design features, such as islands, edges, split levels, and more. We can also add a spa for a total relaxation experience. In addition, we can introduce additional amenities or features, such as underwater lighting, fountains, sun decks, diving boards, etc. You can also choose from a wide range of finishes. We provide you a number of choices that best suit your desired design and budget. Choosing concrete pools over other options might seem an antiquated idea, but concrete is one construction material that has stood the test of time. Concrete stands out as the superior choice when it comes to durability, design flexibility, and strength.

Nolascapes Landscaping & Design LLC is the right company to hire for your concrete pool design and installation needs. Please call us now for a free cost estimate.