Outdoor Kitchens & BBQ's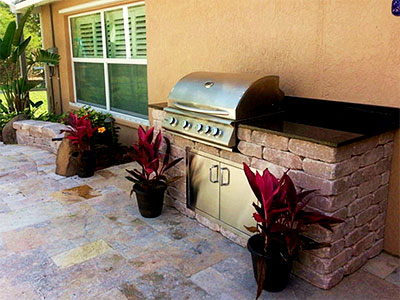 NOLASCAPES is the outdoor living specialist throughout Greater New Orleans. If you are in need of a new Outdoor Kitchen for your landscape, then we are the company you have been looking for. Our team has been custom designing and installing great Outdoor Kitchens for many years with great success. We understand that it is only by your complete satisfaction that we can continue on with our success.


Available Options for Outdoor Kitchens
The fun in having an outdoor kitchen mainly stems from the features that you put into it. A BBQ, stove, and ample counter space should be top priorities, especially if you reside in the New Orleans area where you will want to enjoy fresh grilled seafood.

When you hire NOLASCAPES, you will get more of these features and amenities. Among the added amenities that we highly recommend are the following:


Crawfish Burner. High output burner for those big pots of spring crawfish.


Storage areas. Storage in the form of cabinets and shelves are important elements in any outdoor kitchen. We build them using sturdy materials so you won't worry about high maintenance costs.


Sinks. Sinks and faucets are installed strategically to make cleaning up so much easier for you.


Ice Makers. You will never run out of ice with a flash freeze icemaker. These units keep ice frozen until used. It then replenishes ice in as little as 15 minutes.


Microwave: Cornerstone of any kitchen.


Refrigerators and Chillers. A small refrigerator and/or a chiller reduce the need to go back into the house to fetch soft drinks for guests.


Kitchen lighting. We make sure that sufficient lighting is installed to keep the area well illuminated even at night. This will allow you to spend quality time with friends and loved ones outdoors even when darkness has set in.


Pergola. A pergola to house your outdoor kitchen and keep you away from the heat of the sun or the rain is also recommended.


These are only some of the common installations in an outdoor kitchen. In the end, it's really all up to your specific needs. A policy, we highly consider clients' individual needs and preferences when designing and building outdoor kitchens to ensure function and optimum comfort.


Benefits of an Outdoor Kitchen
There are many benefits obtained by adding an Outdoor Kitchen to your outdoor living space. To begin with, you will have some preparation space around your Kitchen, which will allow you to do a lot of the prep work outside rather than in your home. This will make your cooking experience much more enjoyable, and convenient. You can bring the food outside and get your guests involved in the prep and cooking process. This also means that your home will stay cleaner and the AC will not be blowing out the door with so many trips in and out. Also you can spend more time with your guests and not have to be stuck inside missing out on all the action!

NOLASCAPES can custom design your Outdoor Kitchen based around your typical cooking requirements. Our team will sit down with you and work out the best type and size for you. We can also add other features as well. Some popular features may include sinks, cabinets, refrigeration, and burners. Let us make your outdoor space a fully functioning entertainer's delight.

Your landscape setting will not only be enhanced functionally with the addition of an Outdoor Kitchen, but it will also be enhanced aesthetically. We can build your kitchen with wood, stucco, stone or stained concrete that will look great in your outdoor living space. So, in effect, you will increase your landscapes' function and practicality, the aesthetic and visual appeal, and therefore, it will increase the overall value of your property!


Professional BBQ Islands
NOLASCAPES will build you a truly beautiful Outdoor Kitchen, one that you will get many years of use out of because all of our installations are durable and will stand the test of time. The days of people crowding around your indoor kitchen when you have gatherings are gone. Now with your new Kitchen you can have everyone outside enjoying the nice weather and the fresh air.

Contact us today and we will arrange a free consultation for your new Outdoor Kitchen project.

View our Kitchen gallery »
Areas We Service in Louisiana