Hardscape Services in Lakeview, LA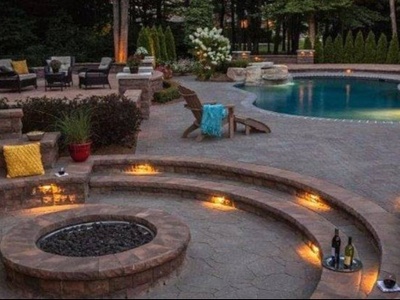 Nobody wants to stay in a yard that has no functional or attractive features like a garden or a sitting wall. Outdoor spaces in properties are supposed to be the perfect spots for some relaxation after a stressful day at work, so they must have basic hardscape amenities that offer just that. Fortunately, there are myriad ways on how you can make your outdoors captivating and functional. One is by having a pool, so you can take a quick dip for a refreshing feeling. It's also best to have fire features in strategic spots in your outdoors. These fire amenities will make your outdoor stay during cold weather not only bearable but comfortable as well. In any of these outdoor improvement jobs, a reliable contractor is needed to make things work.

At Nolascapes Pool & Outdoors LLC, we take pride in our long list of satisfied clients whom we helped achieve their dream outdoor setting. Whether it's a commercial property or a residential one, we give the same level of attention to guarantee client satisfaction no matter how small or big the project may be. From Lakeview, LA to other parts of the state, property owners can tap our professional services to help realize their desired outdoor amenities.


Fiberglass Pools
One of the best ways to ramp up your property's functionality and cool factor is to install something cool – a fiberglass pool for instance. Pool upgrades happen to be among the most common projects that property owners have for their outdoors. When it comes to new pool installation, our team of designers and installers here at Nolascapes Pool & Outdoors LLC are among the best in the industry. We recommend fiberglass pools because of their great features and the benefits that they offer. For example, pools made of this material easily resist algae growth and can be constructed in as fast as two weeks. They are also easy to repair and are known to have the lowest ownership cost among all types of pool. Finally, with their tough, yet flexible nature, fiberglass pools offer a wide range of design possibilities that are perfect for customization. With such awesome benefits, it's no small wonder why fiberglass pools are becoming a popular choice among property owners from Lakeview, LA and surrounding areas.


Stamped Concrete
Aside from pools, we also create appealing concrete structures that won't break our clients' banks. We do this by applying our tried and tested decorative techniques like stamping. Stamped concrete is achieved by adding base and accent colors to a concrete surface and then adding stamp patterns over it to achieve a specific look and texture. In skilled hands, a plain-looking concrete surface can pop up with color and interesting patterns that are hard to miss.

Using various stamps, we can imitate expensive materials like granite, marble, and slate. We can use this special decorative technique to create various outdoor features such as pool decks, pathways, and driveways. You can simply tell us your desired look and we'll find the right stamps to achieve the appearance that you have in mind. We have perfected concrete stamping and our previous works are scattered across properties in Lakeview, LA and neighboring Louisiana cities.


Outdoor Fireplaces
Winter season can be quite unforgiving in Louisiana, particularly in Lakeview, LA. If you and your family love spending time outdoors during such weather, then having a fire feature should be a priority. Whether you need portable outdoor fireplaces or fixed fire features, our skilled crews can take your design requirements and create a personalized fire amenity that satisfies your specifications. With that, you can enjoy your outdoor stay with friends and family in front of a nice outdoor fireplace that will make your bonding moment comfortable in chilly weather.

Call us today at 504-330-8479 or contact us for more details on our comprehensive hardscape services.
Areas We Service in Louisiana