Bobcat Services
Applications for our Bobcat services include: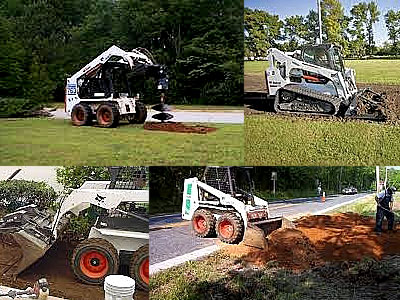 Rough grading, finish grading & leveling
Trenching for sewers, water lines, electrical lines, irrigation, etc.
Hole digging for posts, fencing, trees, shrubs, plants, supports, etc.
Small tree, shrub, bush, foliage, & stump removal
Dirt haul off and transfer
Backfill for trenches, holes, pools etc.
Concrete/Pool break up and removal
Lot & fire break clearing
Drainage
Construction debris & trash removal
Demolition: driveways & slabs
Haul off
Sod removal
Digging for ponds & water features
Excavation, Site Work & Hauling Services
Some people believe that they can handle the landscaping works all by themselves. While it is true that there are some manageable landscaping tasks, which can be personally handled, the fact remains that most of the tasks involved in landscaping work require the expertise and years of experience of professionals. This includes the construction of retaining walls, grading, and excavation & hauling.

When giving a yard a new look and a more beautiful view, there are certain structures that need to be removed. Works like uprooting trees and tearing down of structures like concrete slabs and walls are sometimes necessary. Good thing, when it comes to excavation and hauling, the residents of Greater New Orleans can rely on the expertise of NOLASCAPES. We serve both residential and commercial clients.


NOLASCAPES Your One-Stop Excavating Contractor
There are several advantages when you get the help of professionals when performing excavation and hauling works. On top of these advantages is the quality of the output you are sure to receive. Our team is equipped with the necessary knowledge and expertise to execute the job appropriately. We can also ensure that the project is performed accurately and accordingly to the planned design approved by the clients themselves.

Many residents in Greater New Orleans trust NOLASCAPES for various construction and landscaping projects that require excavation & hauling activities. This is primarily due to the comprehensive services we offer to our clients. When you choose our company for any landscaping work, particularly in excavation and hauling, you can expect us to simplify the process and complete the job as quickly as possible. Your convenience is our priority.


Excavators, Skid Steer Loaders and Dump Trailers for Greater New Orleans
There's nothing to worry about if you hire us to do the excavation and hauling for your next big landscape construction project. Our company uses appropriate equipment like excavators, skid steer loaders and dump trailers. Our team is well trained in handling heavy equipment with all the needed safety precautions. So why risk your convenience and safety in performing excavation and hauling works if you can let NOLASCAPES do the job.


Yard Waste Removal
Excavation works usually involve the removal of soil, rocks and other debris. Proper excavation is necessary to ensure there will be no delays in the actual construction of any structure. The same thing applies with hauling; the removal of debris from the site requires appropriate tools and equipment. The proper disposal of debris from your property is our concern. With our hauling services, our clients will not worry about the excess soil or waste material.

If you are planning to improve your yard or planning to start a construction project on your property within Greater New Orleans, you can always contact NOLASCAPES to do the site work and hauling. We have been handling various excavations and hauling projects in the state ranging from simple landscape improvement like blighted property demolition to a more complex job like preparing foundations for home or building construction.

View our Bobcat gallery »
Areas We Service in Louisiana