Organics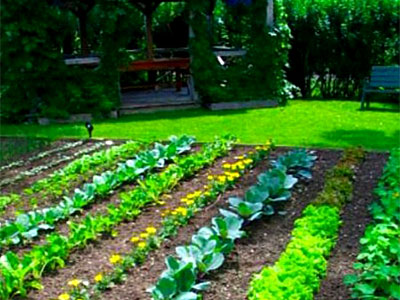 Organic gardens are thought to be a new fad but in fact have been around since the beginning of man. By using natural fertilizer and pesticides we can advise and build you the organic masterpiece of your dreams. The highly sought-after products these features produce will surely decrease your grocery bill but also eliminate those aggravating last minute runs to the store.

In addition to the edible gardens we also offer organic hummingbird and butterfly gardens. These are truly one of our favorite features simply because of their beauty and life-generating characteristics. Let NOLASCAPES install one of these unforgettable creations in your yard today!


Organic Gardens We Install:
Styles:
Inground
Raised
Spiral
Potted
Vertical
Product:
Herbs
Veggies
Butterflies
Hummingbirds
Some background:
A vegetable garden is a garden that exists to grow vegetables and other plants useful for human consumption, in contrast to a flower garden that exists for aesthetic purposes. It is a small-scale form of vegetable growing. Plots may be divided into rows with an assortment of vegetables grown in the different rows. It is usually located to the rear of a property in the back garden or back yard. Many families have home kitchens and vegetable gardens that they use to produce food. In World War II, many people had a garden called a "victory garden" which provided food and thus freed resources for the war effort.

With rising food costs and increased interest in organic and sustainable living, many people are turning to vegetable gardening as a supplement to their family's diet. Food grown in the back yard consumes little if any fuel for shipping or maintenance, and the grower can be sure of what exactly was used to grow it. Organic horticulture, or organic gardening, has become increasingly popular for the modern home gardener.

The herb garden is often a separate space in the garden, devoted to growing a specific group of plants known as herbs. These gardens may be purely functional or they may include a blend of functional and ornamental plants. The herbs are usually used to flavor food in cooking, though they may also be used in other ways, such as discouraging pests, providing pleasant scents, or serving medicinal purposes, among others.

A kitchen garden can be created by planting different herbs in pots or containers, with the added benefit of mobility. Although not all herbs thrive in pots or containers, some herbs do better than others. Mint is an example of an herb that is advisable to keep in a container or it will take over the whole garden.

Herbs often have multiple uses.


Annual culinary herbs: basil, dill, summer savory
Perennial culinary herbs: mint, rosemary, thyme, tarragon
Herbs used for potpourri: lavender, lemon verbena
Herbs used for tea: mint, lemon verbena, chamomile, bergamot, hibiscus
Herbs used for other purposes: stevia for sweetening, feverfew for pest control in the garden.

A vertical garden is a wall, either free-standing or part of a building, that is partially or completely covered with vegetation and, in some cases, soil or an inorganic growing medium. The concept of the green wall dates back to 600 BC with the Hanging Gardens of Babylon.

A witches' garden is an herb garden specifically designed and used for the cultivation of herbs, for culinary, medicinal and/or spiritual purposes. Herbal baths, the making of incense, tied in bundles for rituals or prayers, or placed in charms are just some of the ways herbs can be used for spiritual purposes. Typical plants found within a witches' garden are: Rosemary, Sage, Parsley, Mint, Catnip, Henbane, Marjoram, Thyme, Rue, Angelica, Bay, Oregano, Dill, Aloe, Arnica, Chives, and Basil.

Butterfly gardening is a growing school of gardening, specifically wildlife gardening, that is aimed at creating an environment that attracts butterflies, as well as certain moths, such as those in the Hemaris genus. Butterfly gardening is often aimed at inviting those butterflies and moths to lay eggs as well. Because some plants are not fed upon by adult butterflies, the caterpillar host should also be planted for a bigger population of butterflies. Butterflies typically feed on the nectar of flowers, and there are hundreds of such plants that may be planted to attract them, depending on the location, time of year, and other factors. In addition to the planting of flowers that feed butterflies, other means of attracting them include constructing ¨butterfly houses¨, providing sand for puddling, water, and other resources or food items, including rotten fruit.


Butterfly-attracting plants
Some butterfly-attracting plants include: purple cone-flowers (Echinacea purpurea), yellow cone-flowers, sunflowers, marigolds, poppies, cosmos, salvias, some lilies, asters, coreopsis, daisies, verbenas, milkweed (especially for the Monarch butterfly, whose caterpillars feed solely on this plant), the butterfly bush (also called buddleia), zinnias, and others.[2]

HUMMINGBIRD GARDENS Many flowering plants attract hummingbirds. Most are tubular in shape and many are red, though certainly not all. A successful hummingbird garden provides nectar sources from May through the first frost. There is a great temptation to plant acres of Bee Balm or Cardinal Flower, two of their favorite nectar sources. But in each case nectar would be available for just a brief period in a hummingbird's life. The wise gardener selects an assortment of flowering plants with overlapping blooming periods, mixes perennials and annuals, and lets some of nature's wildflowers and weeds persist, many of which are favored by hummingbirds and butterflies.

View our Organics gallery »
Areas We Service in Louisiana