Chlorine Pools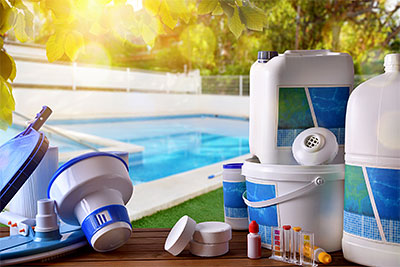 A pool is an excellent addition to any property, whether residential or commercial. It provides an avenue for people to bond, relax, and entertain. Chlorine pools are the most typical of swimming pools. To date, it is the most popular pool system capable of sanitizing pool water because chlorine tablets are readily available. Many find chlorinated pools to be effective in dealing with harmful microorganisms and bacteria. Pools with chlorine do not get clogged easily and prevent algae growth.

Chlorine pools should be designed by experts who are also knowledgeable about their safety and maintenance requirements. Nolascapes Landscape & Design LLC has a team of expert installers that can work on this type of project. From chlorine pool design to installation and maintenance, we are the perfect company to hire for your project. We have been creating swimming pools that add class and value to any property. Dial 504-330-8479 now for more details about our pool services.


Chlorine Pool Design
Whether you opt for an in-ground or above-ground swimming pool, we consider first the amount of space that we are going to work with. Our seasoned pool builders will determine the best spot for your chlorine pools by considering your needs, budget, existing outdoor amenities and other landscape features. Your desired design and shape also play a vital role in the installation of a chlorinated pool. There are the usual shapes such as rectangular or elongated oval-shaped pools. There are also pools that include a kiddie bath at the side of the pool, wave-shaped or a Jacuzzi-type pool. Just tell us your preferences, and we'll incorporate them into the design plan.

Aside from location, space, shape and design preferences, there are other factors to consider when building a pool:


Function: This is what the pool will be used for.
Pool size: We determine the proper pool dimensions to ensure adequate spacing between your pool and other amenities.
Desired features: Whether you opt to add sun decks, rock waterfalls, sculptured plantings, or other landscape features to work in your pool's aesthetics.
Expert Installers of Chlorine Pools
Nolascapes Landscape & Design LLC is among the pool experts in Louisiana. We have designed and built chlorine pools for residential and commercial properties in New Orleans, Jefferson, Uptown, and nearby areas. We guarantee thorough design planning and quality pool construction. Our company complies with state regulations during installation, which may require adding safety requirements to protect both our clients and working crew.

Our experienced crews can also perform a variety of pool maintenance tasks. Good chlorine pools demand extensive preparations, and once these are accomplished, maintenance is essential. Proper maintenance will also ensure the safety of your family and guests. The maintenance plan may include tasks such as maintaining efficient pool openings and closings, cleaning, refilling the pool, winterizing and de-winterizing your equipment, and more. Trust our professionals to keep your pool in tip-top shape for maximum enjoyment season after season.

Avoid design, installation, and maintenance struggles by hiring expert pool builders. Call us now so we can show you how we design and build chlorine pools.

SALTWATER POOLS »
Areas We Service in Louisiana