Hardscape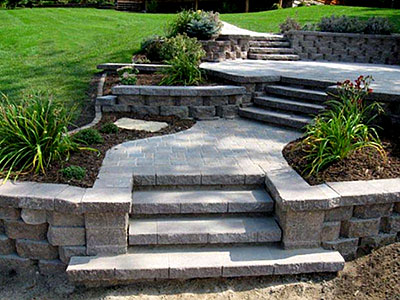 Define your outdoor space and bring symmetry between the house and garden with hard elements. Give you landscape distinction with pavers, stonecapes and outdoor structures. When designed with vision and style, hardscapes create functionality while beautifying the architecture of your home into the outdoor environment. NOLASCAPES hardscapes are works of art. Each unique design uses color, texture and dimension to bring one-of-a-kind elegance to the finished project. Our crew has hands-on experience installing concrete, stonewalls, patios, paved pathways, flagstone and boulders.


Hardscape Services Include:
(Also check outdoor living)
Flagstone & Stonescapes
Paver & StoneWork
Patios
Walkways
Stacked Stone Walls
Driveways
Concrete
Wood Decks
Arbors
Steps
Sidewalks
Hardscaping and Function
Besides beautifying your outdoor areas, hardscaping is very important in making the most of the space that you have available. You can completely change how you use your property with the addition of hardscapes like fences, walkways, outdoor kitchens, patios, water features, and gazebos. These elements will not only be beautiful but very functional, too. They all have some sort of function and make getting around and using your property much more practical.

Hardscape additions will provide much more form and function to your landscaped areas. For example if a paver does crack or is damaged, only the single paver must be replaced as opposed to the entire hardscape. In situations where tree roots and soil shifting would crack conventional concrete or mortared stonework, landscape pavers will simply move with the soil. It is also easier to repair this damage than with concrete or mortared stone. Instead of replacing the entire cracked area, landscape pavers are removed, the damaged base is adjusted and the pavers are then placed back onto the repaired base. There is no need to purchase new pavers.


Where Hardscape is applied
At NOLASCAPES, we can create durable, attractive, and functional hardscapes that meet any of our client's specific needs. Accordingly, here are some of the areas where we can install top-quality hardscape:


Driveways and walkways. Areas in landscapes that take heavy beating are driveways and walkways. They surely deserve some sort of pampering. You can do just that by letting us spruce up your driveway or walkway with some pavers, bricks or flagstone. More about our Driveway Pavers ...


Outdoor kitchens/living areas. Nothing is worse than going outside to relax or cook and finding out the afternoon shower soaked your yard. Hardscape takes care of that through its permeable nature.


Paver Options. Pavers range from irregular stone to cut and patterned stone to concrete slabs and pavers, and include all colors. We are proficient in all applications and styles. NOLAscapes has wholesale suppliers coast to coast. This equates to lower prices, quality products and dependable delivery. We only team with the best suppliers to ensure the stone we use is of the highest caliber. Please click this link to browse our most popular paver options. More about our Pavers …


Pool Decks. The heart of any swimming pool is the deck. We understand the harsh conditions these surfaces are in and only put down the best material, using time-tested methods. Pool Decks should be cool, strong and aesthetically pleasing. We can supply you with any deck material you choose. More about our Pool Decks…


Patios. Make your existing patio more inviting with a flagstone or paver overlay. We can also convert any underutilized space in your yard into a patio, where you and your family can spend hours cooking and relaxing. More about our Patio Pavers ...


Steps. Who says that outdoor steps should be boring? Not when you have us! As such, we can create steps that you will surely love to pass by over and over again. We can create brick or paver steps that are guaranteed to last and look good all the time.


Paver Sealing. Paver sealing is often overlooked when a project is completed. By sealing your new surface a few things occur. The first benefit is the color is brought out and can be matte, natural or glossy. Secondly by sealing the surface it aids in holding in your polymeric sand. This keeps water and weeds from growing up through the grout lines. More about Paver Sealing ...


The beauty of hiring us is that we can customize a design to match your taste or the general look of your property. Our skilled team will be more than glad to sit down with you and discuss your ideas. Accordingly, they will also suggest designs that they think would make your property look more stunning. So, for your hardscape needs, just contact NOLASCAPES today.

View our Hardscape gallery »
Areas We Service in Louisiana