Pool Installer in Metairie, LA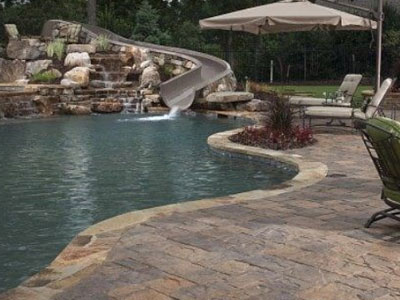 Our company is well-known in Metairie LA and surrounding areas for providing top-notch services. Our clients are always guaranteed quality workmanship because of our technical expertise, modern equipment, and resources. If you also want a successful property improvement project, please contact Nolascapes Pool & Outdoors LLC today. We can work on various projects, such as new pool installation, pool deck upgrade, water feature installation, outdoor living design, and maintenance. We offer these premium services at competitive rates.


Pool Installer
Nolascapes Pool & Outdoors LLC is the leading pool installation company in Metairie LA. We are the choice of many property owners in the area because of our expertise, experience, and partnerships with leading manufacturers. Since we adhere to high-quality standards, the pools that we create can last a lifetime with minimal maintenance effort. We also follow local building codes and the industry's standards for pool construction. You are guaranteed premium quality pool materials, which are all sourced from our trusted partners.

Making our clients happy and completely satisfied with our creations is the ultimate goal of Nolascapes Pool & Outdoors LLC. We achieve this goal by understanding the needs and desires of our Metairie LA clients. Is it built to increase the value of the property or as a focal spot in the backyard? For some clients, the pool's design and function are the most important factors. Some use it for training, while others use it for therapeutic purposes. These are the reasons why we always sit down with our clients when crafting the design plan.


Pool Deck Pavers
The swimming pool is still the best area for rest and relaxation. A quick plunge into the pool will help rejuvenate your tired body. The pool deck area is also the perfect space for family gatherings and special occasions. You, too, can enjoy all these benefits if your pool is equipped with the right amenities and built by pool experts. Hiring a professional contractor like us is the right thing to do since we have the skills, tools, and other vital resources for pool construction and renovation. We can handle all aspects of your pool project - design, installation, upgrades, and maintenance. One of the tasks that we typically perform for our Metairie LA clients is pool deck installation. We are the most popular among local contractors because of our quality workmanship and unique designs. We use only premium pool deck pavers from leading brands to give our clients a gorgeous and fully-functional outdoor living space. Moreover, our extensive collection of deck paver designs allows us to create highly personalized decks. The paver patterns and themes that we adopt are carefully thought-out to suit our client's design taste. Safety around the pool area is also one of our top priorities, so we use only slip-resistant deck pavers.


Fountains
Some landscape elements can easily become focal spots in your backyard. A good example is a water feature, which can be installed anywhere in the landscaped area. Water creates a unique ambiance in the backyard and offers health benefits that you can't get from other landscape features. Another great thing about this element is its affordability. You can already have one or two water elements in your backyard even if you have a limited budget. You may consider a bubbling pot if you are a minimalist or a simple fountain for your garden area. The latter is the common choice of most property owners in Metairie LA because it is easy to install. There are pre-built fountains in the market today, which can be installed without professional help. But why go for pre-built ones if you can hire expert people to build a customized fountain in your property. Contact Nolascapes Pool & Outdoors LLC at 504-330-8479 today to learn more about our water feature packages.
Areas We Service in Louisiana