Fiberglass Pools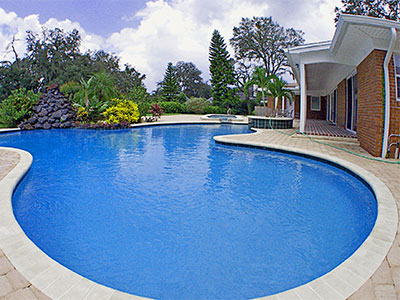 If you are still thinking of a better option for your pool project, you may consider fiberglass pools. A fiberglass pool is a popular type of swimming pool because it does not accumulate surface algae and more durable than concrete or vinyl. A key advantage of a fiberglass pool is its safety design; it allows for a smooth surface, thus eliminating scraping and cracks. It is also low maintenance, with no need for repainting, resurfacing, or re-plastering. Plus, a fiberglass pool is easy to clean and install.

However, you need experienced installers to enjoy the many benefits of fiberglass pools. A local pool installer in Louisiana that you can rely on is Nolascapes Landscape and Design, LLC. As a full-service landscape and pool installation company, we can install all types of pools for both residential and commercial clients. For successful fiberglass pool installation, contact us at (504) 250-3910!


Long-lasting Fiberglass Pools
The fiberglass pools that we install are extremely durable. They can withstand drastic weather changes because of the flexible and resilient materials used in their construction. The fiberglass is non-porous and coated with a special finish. It is composed of tiny glass fibers that are polymer-strengthened, thus making it a tough composite material. Because of the material's flexibility and unique gel coating, you can save on maintenance and repair costs.

At Nolascapes Landscape and Design, LLC, we only provide fiberglass units from leading manufacturers in the country, so our clients are assured of quality pools. Our fiberglass swimming pools come in different sizes, designs, and shapes. As we address your design, aesthetic, and functional needs, we can create small leisure pools, mid-size lounger pools, and large diving pools whether in the shape of a rectangle, crescent, kidney, Roman or free-form pool. We could also add additional features and options, such as pool steps, tanning ledges or wall panels to create your very own stunning fiberglass pool.


Reliable Fiberglass Pool Installation
Fiberglass pools are easier to install than other types of concrete pools (gunite, shotcrete, etc.). The fiberglass shape is already manufactured and ready to be installed into the ground, thus saving you weeks of installation time.

Nolascapes Landscape and Design, LLC offers careful installation of your fiberglass pool, from site preparation and excavation to the last finishing touches. We have the right installation equipment and skilled personnel that will ensure the pool rests on a solid, compacted foundation. As part of the initial installation steps, we secure plumbing to make sure that the pool is on level ground, use rigid PVC pipes for reliability, and conduct pressure testing to prevent any leakage. Also, we handle quality backfill procedures and cantilevered coping with proper form installation and concrete placement.

Fiberglass pools are a fantastic choice because of its sturdiness, durability, flexibility, and cost-effectiveness. This pool type may seem expensive, but its usability and aesthetics last for a long time. The fiberglass material helps reduce the upkeep and renovation costs compared to concrete pools. If you are looking for quality fiberglass pool installation New Orleans and surrounding area, contact us today!