Outdoor Living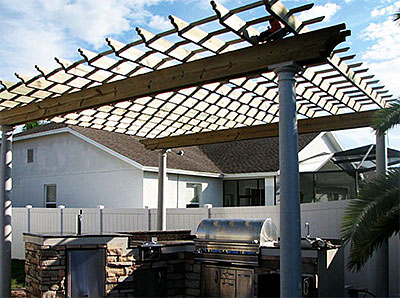 Extend your living area from indoors to outdoors with an outdoor room and increase the value of your home. For those with small spaces, an outdoor room might mean adding a little shady oasis or a gazebo. For others it might mean creating a fire pit, gourmet outdoor kitchen, cabana or pergola.

More than just a patio or deck, outdoor additions can become a favorite gathering spot for family and friends. Whatever you imagine, NOLASCAPES can create it.


Outdoor Room Services Include:
Outdoor Kitchens
Patio Covers
Decks
Pergolas and Trellises
Outdoor Fireplaces
Outdoor Dining Rooms
Gazebos
Bridges
Screen Porches
What Does NOLASCAPES Have In Store For You
NOLASCAPES is a company that can suggest just what you need, depending upon the size of your area and, of course, your desires. We can design and build for you outdoor living areas that may include:


Outdoor Kitchens
Keep the heat and smell out of your home! With our outdoor kitchens come full function and breathtaking aesthetics designed to match any landscape. We can fully furnish your outdoor kitchen with grills, ice machines, stoves, cabinets, and even freezers! Read more about Outdoor Kitchens »


Outdoor Fire-Pits
Not only do our fire pits provide a source of warmth, but they also create an enchanting ambiance. They set the stage for unforgettable evenings, where you can entertain guests, roast marshmallows, or unwind after a long day. The mesmerizing flames dancing in the fire pit create a captivating atmosphere that transforms your outdoor space into a haven of relaxation and enjoyment. We specialize in designing and installing outdoor fire pits that add warmth and coziness and create a welcoming and perfect entertainment space. Imagine the joy of gathering around a captivating fire pit, surrounded by friends and family, enjoying the crackling flames and the inviting glow. Our custom fire pits are meticulously crafted to enhance your outdoor living experience. They serve as the centerpiece of your outdoor oasis, creating a focal point that draws people together. Whether you desire a rustic wood-burning fire pit or a sleek gas-powered feature, we have the expertise to bring your vision to life. Read More About Outdoor Fire Pits »


Outdoor Fireplaces
A fireplace can be the focal point in your outdoor kitchen where you can cook those mouthwatering pizzas, or have it installed in your patio where you and your loved ones can snuggle around as you exchange stories. The addition of an outdoor fireplace can really bring your indoors into the outdoors and extend your living area. It also allows you to get more use of your outdoor living space in the colder months of the year! Read More About Outdoor Fireplaces »


Patios
What's the best way to impress a guest than entertaining him in one of our well-designed patios?
We can make patios from natural stones, concrete pavers, hardwood, or bricks - all designed for maximum comfort and durability. This will ensure that you only get the best outdoor living experience. Read more about Patio Pavers »


Gazebos
Gazebos offer a quiet place to go to relax and unwind or have a small picnic amid the fragrance and beauty of flowers. Our company has a wide range of gazebo designs to fit into any kind of landscape.


Decks
A good deck must provide ample space for chairs and loungers for sunbathing or, simply, for relaxation. A pool deck must be made of smooth but non-slip materials to guarantee safety. Read more about Pool Decks »


Available Options for Outdoor Kitchens
The fun in having an outdoor kitchen mainly stems from the features that you put with it. A grill, stove, and ample counter space should be a top priority, especially if you reside in the Greater New Orleans area where you will want to enjoy fresh grilled seafood.

When you hire NOLASCAPES, you will get more of these features and amenities. Among the added amenities that we highly recommend are the following:


Storage Areas
Storage in the form of cabinets and shelves are important elements in any outdoor kitchen. We build them using sturdy materials so you won't worry about high maintenance costs.


Sinks
Sinks and faucets are installed strategically to make cleaning up so much easier for you.


Ice Makers
Never run out of ice with a flash freeze icemaker. These units keep ice frozen until used and then ice is replaced in as little as 15 minutes.


Refrigerators and Chillers
A small refrigerator and/or a chiller reduces the need to go back into the house to fetch soft drinks for guests, while a bar comes in handy when you entertain guests often.


Kitchen Lighting
We make sure that we install sufficient lighting to keep the area well illuminated even at night. This will allow you to spend quality time with friends and loved ones outdoors even when darkness has set in.


Pergola
A pergola to house your outdoor kitchen and keep you away from the heat of the sun or the rain is also recommended.

These are only some of the common installations in an outdoor kitchen. In the end, it's really all up to your specific needs. A policy, we highly consider clients' individual needs and preferences when designing and building outdoor kitchens to ensure function and optimum comfort.


BENEFITS of outdoor living areas
There are some great reasons why homeowners should extend their living space outdoors. Among these reasons are:

Increases market value the property. Most real property buyers are looking for property listings with amenities such as outdoor living areas. Such features are known to significantly increase the market value of any property; which is exactly why it is a great idea to develop the outdoors with these amenities.

Creates extra spaces. As it is, having these amenities practically adds usable areas to any property. Instead of letting your outdoor areas remain idle, why not develop them and turn them into spaces where you can spend time with your loved ones and guests?

Beautifies the outdoors. No doubt about it: one of the easiest ways to create a stunning outdoor area is to add various outdoor living amenities.

Fortunately, we can create just about any setting that our clients may wish for. With our extensive experience doing such projects over and over again, we have actually turned it into an art form. Accordingly, we can create and design great outdoor living spaces that are durable, attractive, and functional — all at an affordable cost that surely won't break your bank.

Our clients can look forward to having an outdoor living area that they can truly enjoy for years and be extremely proud of. Additionally, our partnership with trusted industry suppliers means that we only use top-quality materials that are guaranteed to provide the comfort and enjoyment that our clients expect.

Lastly, our innate dedication to providing total client satisfaction makes us the best landscaping and design company to hire for your outdoor living needs.

View our Outdoor Living gallery »
Areas We Service in Louisiana