Tips for Hiring a Pool Contractor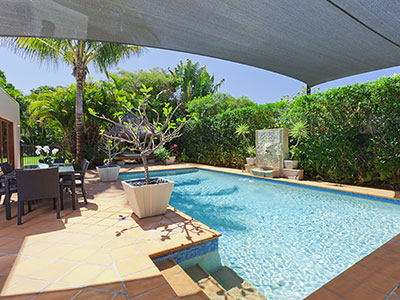 If you're planning to install a new pool on your property to make it more relaxing and functional, the first thing you need to do is to find the right pool contractor. Hiring an experienced, easy-to-work-with, and skilled swimming pool contractor will make the project successful, cost-efficient, and fun. But, with so many options out there, just how do you pick the perfect company to install your dream pool? Follow these valuable tips for hiring a pool contractor and you won't go wrong.


Have a Plan in Mind?
They say that failing to plan is like planning to fail. In the case of a pool planning and design, it's vital to have a sensible plan first before you even hire someone to build it. You should determine how large the pool will be, how much your budget is, and where the pool will be placed. These things will affect the outcome of your project. You will surely thank yourself for setting a project plan beforehand.


Decide on Which Type of Pool
There are different types of pools that you may choose from depending on your budget, design preferences, desired functionality, and available space. If you have a fairly limited budget, above-ground pools are the cheapest to build and can be moved to another spot when desired. But, if you want permanency and durability, in-ground pools are your best option. Take your pick from concrete pool, fiberglass, vinyl, gunite, and the like. Each pool type has its own advantages and disadvantages, so you need to understand the features, maintenance requirements, and design possibilities of your preferred pool type.


Select Type of Pool Water
Another thing that you must decide on is the type of pool water that will be used in your pool. The most common is still the chlorinated water pool option since it is seen as the more hygienic type. However, if you want to go all-natural, salt water is the way to go. This variety uses very little amount of chlorine so you'll get to enjoy a pool that is as close to nature as it can get. These pools require specific equipment so always ask your pool contractor if they can work on these kinds of pool setups. Don't forget to add this to your list of tips for hiring a contractor.


Set a Defined Budget
In any pool construction process, budget is always a paramount thing to consider. Your working budget will greatly define the kind of pool you can have, the actual size of the pool, the design, and the materials that will go with it. You must work out the overall costing of the entire pool facility, including fencing, decking, landscaping, and lighting. Your budget must be defined during the planning phase so you will be properly guided on the other aspects of the pool's design and construction. Most professional pool contractors offer free-cost estimates so ask for their assistance if you want to get realistic costing of your pool project.


Review Photos of Work
Once you have set your sights on a pool contractor, you should ask to see photos of completed pool projects. This will allow you to gauge their skills, creativity, and overall capabilities to handle the demands of your project. You could likewise gain ideas for your own pool design considerations. Contractors with extensive experience in pool installation should be on top of your list. Their portfolio must include designing and installing pools in residential and commercial properties. By considering these important tips for hiring a contractor, you will surely find the best talent in the industry.


Ask for References
Another diagnostic tool that you could use is to ask your preferred contractor for local references; that is, past clients who have shared testimonies on the contractor's skills and customer service. Many contractors do have testimonials ready in their websites, but it's better to ask for names and phone numbers of past clients for verification purposes. Most tips for hiring a contractor include this vital step, so be sure to ask for 3 references from your pool contractor in order to find the right professional for your pool installation.


Get 3 Quotes
If you want to make sure that you're getting the best value and quality possible for your pool installation project, you should seek quotes from at least 3 local contractors. When you have several price quotes, you can opt for the lowest price or the price that is nearest to your set budget. Keep in mind that cheapest is not always the best, so you should still do your homework and look for other fine qualities of your preferred contractor. Why hire Nolascapes?


Set a Defined Schedule
Finally, you must set a definite work schedule for your pool installation project. Make sure that your contractor provides a timeline with progress reports. The contractor must guarantee the on-time completion of the project so you can stay on schedule and on budget. If possible, arrange for a discount should the contractor fail to meet the deadline.

If you want to get your dream swimming pool at a cost that won't hurt your pocket, follow these valuable tips for a hiring a pool contractor. You will not only get a quality, long-lasting pool, but also elegant and functional pool surroundings you can enjoy. Nolascapes provides professional pool installation services throughout New Orleans and surrounding areas. Call 504-330-8479 for a free estimate on our unmatched yet affordable pool installation services.

Areas We Service in Louisiana