Outdoor Living Services in St Bernard, LA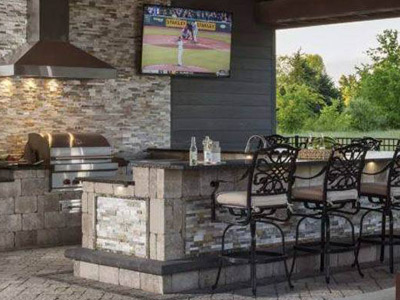 Located in St. Bernard, Louisiana, Nolascapes Pool & Outdoors LLC specializes in creating unique outdoor spaces for its clients. Our team is aware of the great value and practicality that outdoor living spaces can provide to a house and the significance of meticulous planning and attention to detail.

We provide a choice of outdoor living options tailored to each customer's specific requirements. Our professional designers collaborate closely with you to comprehend your vision and construct a custom outdoor living environment that meets your demands and budget.

Our services include a variety of installations, ranging from compact patios for entertaining guests to fully equipped outdoor kitchens for summer barbecues. Our skills and experience allow us to produce exceptional outcomes for your outdoor living requirements.

We have the expertise and experience to deliver superior results, whether you're looking for a cozy patio area to entertain guests or a complete outdoor kitchen for hosting summer barbecues. We offer a range of outdoor living services that cater to our client's unique needs including:


Patios and Decks
In addition to planning and designing paver patios and decks, our company offers skilled installation services. Our skilled staff is equipped with cutting-edge tools and methods to ensure the installation of your outdoor living area with accuracy and care. We use only premium materials to ensure that your patio or deck will weather the elements and the test of time.

We follow quick and effective installation procedures, guaranteeing your new outdoor area is immediately available. With our comprehensive design and installation services, we can create the ideal outdoor living environment for your family.


Outdoor Kitchens
Installing an outdoor kitchen in your backyard creates the ideal location for holding summer cookouts and entertaining friends. Our professionals will work with you to design and install an outdoor kitchen tailored to your requirements and budget.

We provide a range of high-quality materials and equipment, like stainless steel grills, freezers, and sinks, to guarantee that your new outdoor kitchen is practical and fashionable. You can rely on us to offer excellent outcomes for your outdoor living requirements due to our dedication to quality and attention to detail.


Fire Pits and Fireplaces
Create a pleasant, appealing outdoor living space with a well-designed fire pit or fireplace. Our specialists will work with you to design a fire pit or fireplace that matches your outside environment and fits your requirements. We provide a choice of materials and designs, including natural stone, brick, and others, to guarantee that your fire pit or fireplace is both lasting and attractive.


Retaining Walls
We provide outstanding design and implementation services for retaining walls. Our retaining walls, built around patios and fire features, serve the dual aim of supporting the landscape and boosting the area's aesthetic appeal. Our team of specialists has the tools and knowledge to build all forms of retaining walls, from basic to intricate designs. We use only the highest quality materials, and our cutting-edge technology guarantees that our installations are finished efficiently and affordably.


High-Quality Outdoor Living Installations
We perform the installation on schedule and within budget without sacrificing quality. Our seasoned professionals will guarantee that each outdoor living installation is executed to the most outstanding standards using only the finest materials and tools. We also provide repair and replacement services to ensure that your outdoor living space will continue to look and work well for years.

We give warranties on all outdoor living projects and stand by our work. Our staff will collaborate with you each step of the way to surpass your expectations with your outdoor living space.

Call Nolascapes Pool & Outdoors LLC at 504-330-8479 for more information about our outdoor living services in St Bernard, LA. You can also email us through this Online Form, and call you back to discuss your project.

Areas We Service in Louisiana