Hardscape Services in West Bank, LA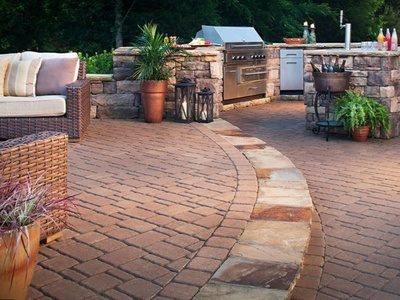 At Nolascapes Pool & Outdoors LLC, client satisfaction is always our top priority. We make sure that each project is handled by people with the right skillset and training. They are licensed professionals with extensive experience in their respective fields of specialization. We also equip our people with appropriate tools and equipment to ensure the timely completion of the project. Our construction materials are sourced only from trusted suppliers and manufacturers in West Bank LA and surrounding areas. With our capabilities and resources, we are your best option among local contractors in the West Bank area. If you are not yet convinced of our capabilities, please browse our portfolio to see some of our outstanding creations. We have built a lot of custom-designed pools, decorative concrete walls, water features and beautiful paved amenities for various clients across the state. Please call us today at 504-330-8479.


Vinyl Pools
Nolascapes Pool & Outdoors LLC is an expert installer of vinyl pools. This pool type is among our favorites because it is easier to build compared to fiberglass and concrete pools. A concrete pool may take several weeks to complete while a fiberglass pool requires special equipment to install. If you are on a tight budget, this is the perfect pool for you since the cost of installation is lower compared to fiberglass and concrete swimming pools. Today's vinyl liners are made from durable, non-porous material, making them excellent alternatives to the above-mentioned pool types. You will also save on maintenance costs since chemical use is dramatically reduced. To give you peace of mind, we only recommend and install top-of-the-line vinyl liners from trusted brands. Your pool will be installed by our well-trained crews who are fully equipped with the necessary tools and equipment. We strictly follow the industry's standards for pool installation to give you a water amenity that is not only appealing but also long-lasting. Call us today and be one of our growing lists of satisfied clients from West Bank LA.


Concrete Walls
Hiring a neophyte local contractor can lead to costly repairs and maintenance works. Avoid this pitfall by just hiring a trusted masonry contractor in West Bank LA. You can bank on our decades of experience in masonry and concrete works. We can design and build concrete walls, sitting areas, retaining walls, fences, and other concrete structures on your property. These projects are all handled by our certified masons and crews. We are meticulous people so every concrete wall that we create is guaranteed durable and long-lasting. All the materials we use are sourced from trusted suppliers. From aggregates to concrete blocks, they are guaranteed top-quality and carefully selected to meet your project's requirements. You are lucky to have us since we have creative people who can transform ordinary concrete walls into beautiful artworks. We achieve this by using various decorative techniques such as stamping and staining. These decorative techniques are best used for your interior and exterior concrete walls.


Natural Stone
We make your outdoor features and amenities extraordinary by using natural stones such as granite, bluestone, slate, cobblestones, and flagstones. We carefully select each stone type to suit the requirements of the structure that we will build. For example, we only use slip-resistant stones on pool decks, walkways, and other outdoor features with high-foot traffic. It is proven that this kind of stone helps reduce slip-and-fall accidents in these areas.

Another reason why we highly recommend this material for outdoor amenities is its versatility. Natural stone is an excellent material for horizontal and vertical structures. We can use it to build your driveway, entryway, patio, and other paved structures in your West Bank LA property. Your perimeter wall, planters, and retaining walls will also look great if they are built using natural stones. How about a cobblestone driveway or a patio made from flagstones? Your property can have all these outstanding amenities and structures by contacting us today.

Call us today at 504-330-8479 or contact us for more details on our comprehensive hardscape services.
Areas We Service in Louisiana