Patio Pavers
Patio pavers bring a lot of advantages and benefits, such as durability, easy maintenance, safety features, pro-environmental, and great investment. No wonder why many New Orleans homeowners prefer to use pavers when having an outdoor improvement.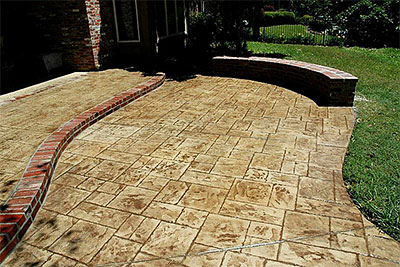 And when it comes to building beautiful and durable patios, most New Orleans homeowners trust Nolascapes. We provide professional design of patios and installation of patio pavers.

Essentially, the patio pavers designed and installed by Nolascapes are capable of handling heavy foot traffic without requiring a lot of maintenance. This patio paving material is strong and resilient to abrasion and is, in fact, more durable as compared to regular poured concrete surfaces.

When it comes to customer service and affordability, WE WILL NOT BE BEAT!
CALL TODAY: 504-330-8479.


Backyard Patio Ideas
The backyard patio, the hub of a home's outdoor activities, should officially be cataloged as an American icon. Virtually no home exists without one. And outdoor fun, such as grilling or relaxing, revolve around backyard patios.

Although the sizes range, from courtyards to side yards to sprawling outdoor living areas, the American home just isn't the same without a backyard patio.

Our Design Team can help you learn about all the details that make up a functional and appealing patio. Using pavers is the start that will provide your patio with a firm foundation and an appealing, multi-use surface. We can inform you about paver patio cost, design ideas, surface options such as stamped concrete patios versus pavers, and view pictures of other home backyards.

Because there are so many options and outdoor patio designs, we are here to help with every aspect. It doesn't matter if you have no idea what you're looking for or have it figured out down to the last detail Nolascapes is your best choice.


Concrete Pavers for Patios
Concrete pavers are more than just attractive; they are also long-lasting and durable. These are the reasons why they are worth considering if you are planning to improve the looks of your patio. Some would say that concrete pavers are not attractive when used for patios. However, this is not true. There are vast selections of colors and patterns. They can imitate the looks of bricks or stones. They can practically come in any design that you can imagine.


Interlocking Pavers Versus Concrete Paving Slabs
Using interlocking concrete patio pavers adds value as they provide a flexible foundation and longevity. And since concrete pavers are interlocked, you can simply replace any pavers when fixing them. Such things can hardly be done with a concrete slab. The installation of concrete pavers will add more cost to the patio construction, but with the durability and the beautiful sight it creates, the cost is well worth it.They also will enhance the value of your property.

When it comes to customer service and affordability, WE WILL NOT BE BEAT!
CALL TODAY: 504-330-8479.


Stone Pavers for an Elegant Patio
Install stone pavers on your patio if you feel like it is missing some visual appeal. This type of paver serves as a simple solution to make your property look dashing. Of course, stone pavers are not only pleasing to the eyes, they are also long-lasting and durable. They can withstand excessive temperature changes and are resistant to water. Stone pavers can also be easily replaced if damaged.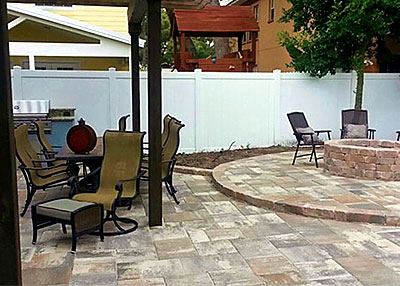 However, installing stone pavers is not an easy task. This must be handled by professionals to avoid installation problems. Nolascapes ensures the quality of the stone pavers installation whether it will be used in your patios, walkways, decks, driveways and other areas in the landscape.

You can also play with your imagination with stone pavers as they come in different sizes, shapes, colors, patterns, and textures. Some of the stones you can choose from are limestone, sandstone, granite, and bluestone.


Paver Patio Installation in New Orleans
Look no more for other contractors if you are planning to install patio pavers. Nolascapes is the only company in New Orleans that you can rely on when it comes to designing and building patios using pavers. This is backed up by our decade of experience in the hardscape industry. Our qualified team of designers and workers can very well complement your patio pavers to your home's architectural style. We guarantee to bring you a new outdoor living space where everyone can enjoy and relax.


Sealing Patio Pavers
Paver sealing is often overlooked when a project is completed. By sealing your new surface a few things occur. The first benefit is the color is brought out and can be matte, natural or glossy. Secondly by sealing the surface it aids in holding in your polymeric sand. This keeps water and weeds from growing up through the grout lines. More about Paver Sealing ...


Five Aspects of Patio Design to Keep in Mind
Determine the size and location of your outdoor space. Let natural elements be your guide. Position your patio in an area where it will not be affected too much by prevailing winds and sun orientation. View your location as a series of outdoor zones. Determine what activities you'll want to take place in these zones—such as cooking, conversation, children's games, etc. Design your zones with enough space for the activities to take place with good traffic flow.


Choose a design scheme that complements your home. Look closely at your home's architectural style and choose a theme to integrate with it. You'll want your patio to harmonize with your home rather than compete with it. The goal is to have your patio be an extension of your home.


Provide shelter and secluded retreats. Not all patios have to be covered with a huge structure. But you will want to plan for shelter from the elements. Attached structures to the home are obviously more secure and usually more comfortable. But you can create a just as appealing atmosphere with strategically placed arbors, umbrellas, gazebos, and pergolas. Sitting under these types of structures provides a peaceful, secluded area.


Plan for convenience. Keep food prep and cooking areas close to the main house. It makes cooking and preparing food much easier since you'll often be going back and forth inside and out of the house. Think about the traffic patterns to and from the grill and the house. You won't want to be carrying dinner past your guests and worrying about tripping over anyone or any pieces of furniture.


Design with a view. Whether or not your property overlooks a magnificent park or looks down the boulevard you will still want to create a "view" in your patio area. Orient your seating to look at a beautiful and fragrant flower bed. Or place a water fountain within earshot and as a focal point. You can also place arbors and pergolas in view to create unique focal points.


The Nolascapes Design Team
The beauty of hiring us is that we can customize a design to match your taste or the general look of your property. Our skilled team will be more than glad to sit down with you and discuss your ideas. Accordingly, they will also suggest designs that they think would make your property look more stunning.

When it comes to customer service and affordability, WE WILL NOT BE BEAT!
CALL TODAY: 504-330-8479.

View our Hardscape gallery »
Areas We Service in Louisiana