Outdoor Fire Pits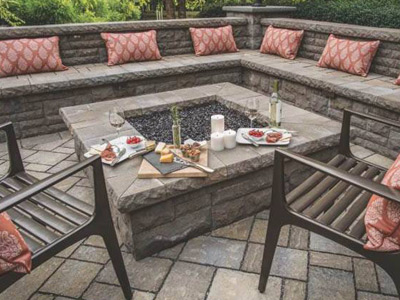 Welcome to Nolascapes Pool & Outdoors LLC, your premier destination for exquisite outdoor living solutions. We specialize in designing and installing custom fire pits that bring unparalleled coziness and warmth to your outdoor space. With our expertise and attention to detail, we can create a beautiful fire pit that will become the centerpiece of your outdoor oasis.


Why Choose an Outdoor Fire Pit?
An outdoor fire pit is more than just a functional addition to your outdoor area—it's a gathering place that fosters connections and creates cherished memories. Here's why you should consider adding an outdoor fire pit to your property:


Coziness and Warmth - An outdoor fire pit instantly transforms your backyard into a cozy retreat. Gather around the crackling fire, share stories, and bask in the comforting warmth on cool evenings. It provides a soothing ambiance that encourages relaxation and quality time with loved ones.


Versatility - Our custom fire pits are designed to suit your unique style and preferences. Whether you envision a traditional wood-burning pit or a modern gas-powered fire feature, we can bring your vision to life. We offer various sizes, shapes, and designs, ensuring your fire pit seamlessly integrates with your outdoor aesthetics.


Entertainment and Practicality - A well-designed fire pit serves as more than just a source of warmth. It provides a focal point for outdoor entertainment, enabling you to host memorable gatherings, roast marshmallows, or enjoy a cozy evening under the stars. Moreover, an outdoor fire pit extends the usability of your outdoor space, allowing you to enjoy your backyard year-round.
Our Custom Fire Pit Services
At Nolascapes Pool & Outdoors LLC, we take pride in creating unique and stunning fire pits that exceed our client's expectations. When you choose us for your fire pit project, you can expect the following:


Custom Design: We work closely with you to understand your vision and preferences. Our experienced team will design a fire pit that harmonizes with your landscape, architectural elements, and outdoor living style.


Quality Materials: We believe in using only the finest materials to ensure the durability and longevity of your fire pit. From premium stone and brick to high-quality fire-resistant metals, we source materials that withstand the elements and maintain their beauty over time.


Professional Installation: Our experienced professionals will handle all aspects of the process, ensuring that your fire pit is safely and securely integrated into your outdoor space. We adhere to the highest industry standards and pay meticulous attention to detail, guaranteeing an excellent finished product.
Types of Fire Pits
Wood-Burning Fire Pits - Embrace the classic charm of a wood-burning fire pit. These rustic options create a mesmerizing ambiance and evoke a sense of nostalgia. Enjoy the crackling flames and the natural aroma of burning wood as you unwind in your outdoor sanctuary.


Gas Fire Pits - If convenience and control are your priorities, a gas fire pit is an excellent choice. With a simple push of a button, you can ignite a beautiful, easily adjustable flame. Gas fire pits provide a clean and efficient burning experience without the hassle of gathering and storing firewood.

For more information about our Outdoor Fire Pits, please call Nolascapes Pool & Outdoors LLC at 504-330-8479. You can also send us your queries via this Online Form, and one of our team members will contact you soon.
Areas We Service in Louisiana