Water Features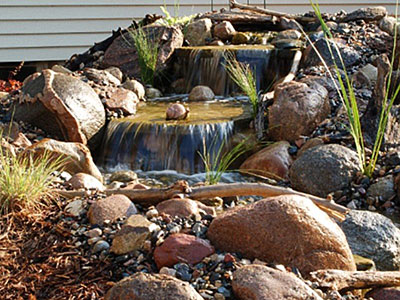 Turn your backyard into a peaceful retreat with the soothing sound and movement of water. Whether it's a waterfall, pond, stream, fountain, colorful fish or water lilies, we can help you create a slice of Paradise in your own backyard. Each water feature designed and created by NOLASCAPES is a unique concept combining natural stone material and water plants. We integrate your interests and desires with the beautiful accent of nature. These breathtaking low-maintenance displays of the natural environment provide years of enjoyment from the relaxing sight and sound of moving water, beautiful fish and plants. Water Feature Services Include:


Ponds
Waterfalls
Streams
Fountains
Illumination
Koi Ponds
Vessels
Pondless Waterfalls
Creating Waterscapes
There are many landscape contractors in the area but not all can provide the same quality work that we put into every project that we handle. This is also true when we're working on water features. We consider this highly specialized job as an art. The beauty and the health benefits of these water elements can only be achieved if creative and passionate tradesmen like us build them. You add to this the experience that we have and you'll have a very potent combination.

NOLASCAPES has been in the landscaping industry since 1998. This has allowed us to master the craft of designing and building functional and stunning water features.

Below are some of the features that we can build for you:


Ponds
We don't stick with the common pond design. We always give our clients the freedom to choose ponds that will meet their preferences. They can choose from koi ponds, rock ponds, or a mini garden pond, just to name a few.


Artificial stream
This water feature is great if you want to hear the sound and healing properties of flowing water. It is best installed in larger areas because we can add more water features like a pond or waterfall.


Waterfalls
The great thing about this particular water feature is the flexibility when designing them. We can come up with any design you want and adjust it based on the theme of your landscape. For homeowners who want a safer waterfall, a pondless waterfall is your best option.


Vessels
If space is at a premium, a water vessel is the way to go. We can turn almost anything into a water feature. From pots and vases to bamboo to cypress, we have you covered.

NOLASCAPES can create any water feature for your property. Just contact us and we will discuss other options for you, like installing beautiful fountains, birdbaths, and water gardens in your landscape.

We can handle the design and implementation of any size water feature and all ranges of design from farm ponds to small "vessel" water features.


Perfect Water Feature for your Landscape
Although water features can easily improve the aesthetics of a landscape, it is still very important to choose the right features for your property. The available space, the existing amenities, and the overall theme of your property are just some of the factors that must be considered.

At NOLASCAPES, we ensure that every waterscape that we create will complement the design of your landscape — whether it is Asian or European inspired.

We also recommend different water features for large landscapes and adjust our designs accordingly for smaller gardens. For example, ponds are typically installed on large properties, while a fountain or wall waterfall is best suited to areas with limited space. But, we don't limit our options when working with water features. We collaborate with our clients so that their preferences are incorporated in the design.

Nothing soothes the senses and calms the spirit like the sound of soft, trickling water. NOLASCAPES has been creating unique and beautiful water features for our clients for years. Whether you desire ornamental ponds with colorful fish or enchanting waterfalls cascading down by your outdoor seating area, the professionals at NOLASCAPES can help make your vision a reality.

View our Water Features gallery »
Areas We Service in Louisiana