Hardscaping in Uptown, LA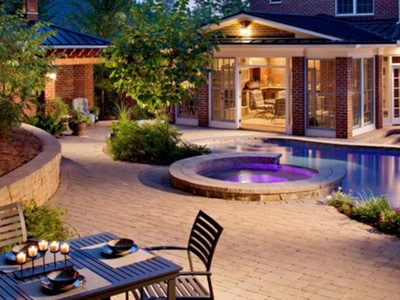 Nolascapes Pool & Outdoors LLC is a trusted contractor in Uptown LA. For years, we have been providing top-notch design-and-build services to residential and commercial property owners in the area. Our technical capabilities and impressive portfolio of completed projects are the main reasons why most of them hire our services. We can handle their outdoor improvement projects - from landscaping to pool installation and outdoor living construction. We also adopt a highly personalized approach when dealing with our client's project. We do this to understand their needs and desires. This process also helps us create awesome outdoor features and amenities. If you are also planning a major outdoor improvement project, don't hesitate to contact Nolascapes Pool & Outdoors LLC. We can help you create a more functional and appealing outdoors at a cost that you can afford. We can revitalize your old pools and install new features like paver pool decks and other pool amenities. Do you want a stunning landscape at night? Allow us to install premium quality lighting in strategic spots in the landscaped area. All tasks are handled by our seasoned installers and builders, so you are assured of quality workmanship and outstanding results. Call us now at 504-330-8479 for your inquiries and other concerns.


Pool Decks
Do you want to upgrade the look and function of your outdated swimming pool? How about installing a new pool deck to enhance your pool's functionality and aesthetics? Just let us know your plans and ideas so we can recommend the right amenities and additions for your pool. Nolascapes Pool & Outdoors LLC has complete resources, seasoned employees, and access to premium-grade construction materials. With these resources, we can easily build a one-of-a-kind pool deck that you will surely love and enjoy. We have already built several pool decks for Uptown LA clients, so we are confident that you'll get your dream pool deck setup too. Your pool deck can last a lifetime since it is made from premium quality paving materials. Our slip-resistant pavers, which are highly recommended for areas with water features, are effective in preventing slip-and-fall accidents in the pool area. We also apply interesting patterns and designs to enhance the aesthetics of the entire area.


Driveway Pavers
Our company has extensive experience in building residential and commercial paver driveways. Our driveways are tough and built to last since they are made from premium-grade pavers. We get our driveway pavers from reputable manufacturers in the country. These manufacturers have an extensive collection of paver designs so we can easily build your desired driveway. You may choose a European-style driveway with our cobblestone design or go for eco-friendly options like permeable pavers that help prevent water runoff. Since these types of pavers require minimal maintenance, they are the usual option of property owners in the Uptown LA area.


Landscape Lighting
You can have a captivating landscape if it is professionally designed and well-illuminated. The lighting will make the area safer and more conducive for activities and family gatherings. Here at Nolascapes Pool & Outdoors LLC, we help property owners enjoy the beauty of their landscapes at nighttime with our landscape lighting installation service. Our licensed technicians use modern lighting products that are not only energy-efficient but also long-lasting. We highly recommend LED lights and solar-powered lighting to help our valued clients lower their monthly energy costs. Our lighting setup is carefully planned to ensure maximum coverage of the landscaped area. We also use special lighting techniques to highlight important features and elements in the landscape. Some of the techniques that we use in our past projects in Uptown LA are moonlighting, wall washing, silhouetting, and uplighting. The results of these lighting techniques always amaze our clients. You may also consider the automated lighting system that can be programmed according to your lighting setup or theme. Call us now and let us discuss your landscape lighting needs.
Areas We Service in Louisiana