New Pool Construction Process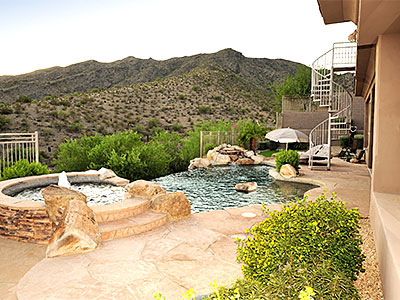 Each and every one of our custom pools or pool and spa combinations are designed and constructed with an eye for quality, efficiency, long-term durability, utility and aesthetics . Here's how we build them and some insight as to why we and our clients believe a NOLAscapes Pool to be the superior pool.


Pre-construction:
Personal design assistance by the NOLAscapes pool designer.
Pre-excavation meeting for approval of layout in the backyard.
Permits from the local City or Parish will be obtained and posted.
Notifications will be sent to the local utility companies for location of elec., sewer, gas…
Temporary construction fencing at access points for safety and liability.
Excavation:
Expert operators will excavate your pool taking care to minimize damage to landscaping and grass during excavation.

During excavation a NOLAscapes construction supervisor will be present to set the elevation of the pool, which is crucial for proper drainage.

All interior areas of the pool are hand-trimmed by experienced professionals.

Prior to completion of this stage a NOLAscapes construction supervisor will ensure that all floors and walls are trimmed per design and that proper pool depth has been achieved.


Steel reinforcement: structure:
Bond beam - 4 bar Box beam with #4 (1/2") continuous.
Walls and floor - #4 10" on center with 5" at the breaks and cove.
Deck dowels every 4' (3/8" rebar connecting the gunite shell to the pool decking).
All steel is tied to the highest NOLASCAPES standards.
Gunite Structure: (gunite is Pneumatically applied concrete)
Walls and floor – minimum 6"to 8" thick walls and floor. hand-trimmed by experienced gunite installers.
Gunite bond beam – 12" wide x 12" deep (top portion of pool shell - adds rigidity to the structure).
4,000 – or above PSI - APSP minimum is 3,500 PSI.
Tile & Coping:
6" frost proof, acid proof decorative waterline tile with depth perception spotter tiles if requested.

A wide selection of the following copings: Bullnose brick, Oklahoma Flagstone with chiseled face, Travertine marble, and Lueders.

Also available are hand-sculpted manmade coping, boulders and various other choices.


Plumbing:
All schedule 40 rigid PVC is used for the hydraulic system.

Pipe diameters are determined by calculating the flow rates desired for certain pumps, filters, spas, and water features.

Suction ports entering the pool or spa are installed using APSP guidelines and local and federal requirements for safety. The hydraulic system will be pressure tested after completion. This will save time through construction by avoiding any unexpected leaks in the system.


Decking:
We provide you with a wide range of materials: Pea gravel, Ideal deck, Travertine, Brick pavers, Flagstone, Stamped cement, Cool Deck or Slate, etc.

All decks are poured a minimum of 4" thick with piers if required and integral steel rebar tied to the pool shell steel structure.

Interlocking steel bars are installed between all expansion joints, this allows for no deviation from one concrete section to another. If pool deck is adjacent to existing concrete decking, dowels are pinned to the existing decking.

NOLASCAPES uses 3/8" re-bar 15" o.c. for reinforcement, not just wire mesh.


Electric:
All electrical wiring is installed per City, Parish and APSP codes and NEC (National Electrical Code) guidelines by licensed electricians.

Lighting circuits installed in the pool are all GFCI protected for safety.

We have the ability to install automated wireless control systems for your convenience (these systems are installed so that you may control your pool and/or spa with the touch of a button).


Plaster:
2 coats of white marble plaster troweled by hand to a fine finish with bond coat.

We also have custom surfaces such as Premium White Marble Plaster, Diamond Brite, Quartzscape, Designer Series, and Crystal Stone.


Equipment:
Your choice of pump, filter, blower, cleaner, etc… Our recommendation:


Pump/filter –Pentair Intelliflo –Pentair FNS 60 sq ft DE or 520 sq ft cartridge.
Heater – Master Temp Pentair 400,000 BTU energy-efficient "low nox".
Cleaner – either Polaris 280 or Pentair legend with booster pump.
Spa blower – 1 hp Silencer (quietest blower on the market).
Valves – 2" Jandy 3 way.
Controls – Pentair EasyTouch wireless or Intermatic timers.
Post construction:
Before filling a sample of your tap water will be tested so that we may know the exact chemical start-up necessary for your pool.

Your pool will be started, cleaned and fine-tuned then we will instruct your family on how to operate your new swimming pool with 30th day evaluation.


Additional features included a pool:
2 automatic skimmers plumbed and valved independently.
Adjustable returns with wall fittings to meet proper hydraulics.
Dual main drains on all suction lines other than skimmers for safety and flow factors to meet VGB Act.
All lighting systems are custom designed for each particular pool (colored lighting options are available).
Dedicated line for cleaner.
Additional features included a spa:
5 to 6 (dependent on spa size) adjustable, interchangeable hydrotherapy jets with air injection.
2.5" & 2" suction and return lines.
100-watt spa light (colored lighting options are available).
Designed for constant filtration during pool mode.
Hand-sculpted (multilevel, and contoured benches are optional).
POOL OPTIONS MATERIALS »
Areas We Service in Louisiana