Carpentry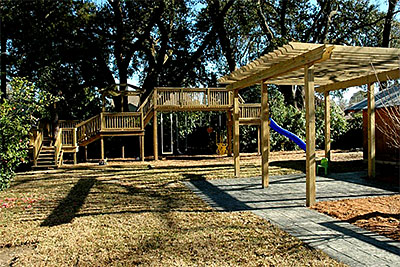 There is no denying that carpentry is one of the oldest methods of construction. NOLASCAPES believes in old-school methods of construction. Whether using cedar, cypress, bamboo, or pressure-treated pine, we have the experience and expertise to create the wooden creation you desire. Here are some of the structures we offer:

Fences
Greenhouses
Decks
Screen Porches
Pergolas
Board Walks
Gazebos
Spa Decks
Arbors
Tiki Huts
Patios
Pet Enclosures
Trellises
Shed/Barn
Bridges
Handicap Ramps
LANDSCAPE CARPENTRY CREATIONS
The increasing desire for outdoor living spaces has boosted the demand for landscaping carpentry. Enclosures, Walkways, Free-Standing Structures, and Gathering Areas have a unique and special place in the landscape.


FREE STANDING STRUCTURES
Pergolas, Arbors and Trellises are the most underutilized features in the landscape community today. NOLASCAPES can custom build you any of this old-world "living" shade structures. We look at the space you have and fit a wooden work of art right in your backyard.


WALKWAYS
Boardwalks and Bridges are a great way to channel guests through your beautiful landscape. Imagine having your own nature boardwalk in your backyard or a wooden bridge spanning your pond or stream. Let NOLASCAPES build you a totally custom path to happiness.


GATHERING AREAS
Decks, Patios, and Gazebos are common sights in the New Orleans landscape and for a good reason. The low price per square foot increase in your usable entertainment area at your home is unrivaled. We can set you up with a custom gathering area for as little as 1/10 the square foot cost of current custom home prices.


ENCLOSURES
Barns and Sheds are the natural progressions once you have maxed out your existing storage space. Imagine actually being able to park your expensive vehicles in your garage instead of storing rusty hand tools and smelly lawnmowers. Let NOLASCAPES assess your current needs and design an enclosure with smart storage built-in with room to grow.


SCREEN PORCHES
Nothing is more New Orleans than a screened porch! NOLASCAPES can retrofit your existing structure or build from the ground up an area that deters those persistent insects.


FENCES
Almost everywhere you go there are fences. There are many differences whether it is height, style, or material. NOLASCAPES builds quality commercial grade fences from barbwire to 16' cedar. We lay down a Premium Quality Fence.


GREENHOUSES
These year round growing structures are the perfect way to have year round organic herbs and vegetables. Regardless of whether you need a fully automated Greenhouse, a place to sprout seedlings, or just a space to store tropical plants in the cold season, we will exceed your expectations and give you a Greenhouse that will last you for decades.


HOT TUB DECKS
Nothing screams relaxation like a half-hour in your hot tub. Don't let getting in and out of it be painful. NOLASCAPES can design and install an appropriate deck that not only accents your deck but also makes it truly user-friendly.


HANDICAP RAMPS
There comes a point in life when steps make a simple task such as coming in and out of your house painful. We understand the difficulties of mobility and have the solutions. A gently sloping, aesthetically pleasing ramp is the solution.


PET ENCLOSURES
Birds, dogs, turtles, you name it, we have built enclosures for your family's best friends. NOLASCAPES can take that place where nothing grows and turn it into your pet's home, play space or time-out spot. Gone are the days of rudimentary cages and pens. We build functional spaces that are designed for comfort.

The material of choice when building anything outdoors in South East Louisiana is wood and for good reason. Wood is readily available, extremely plentiful and very economic. When it comes to outdoor applications there are so many great choices to consider. Let us explain the differences in terms you can understand.

NOLASCAPES is the most qualified landscape carpentry project company in the business. Please show us where your next wooden wonder will be.

View our Carpentry gallery »
Areas We Service in Louisiana