Driveway Pavers
Concrete Driveway or Interlocking Pavers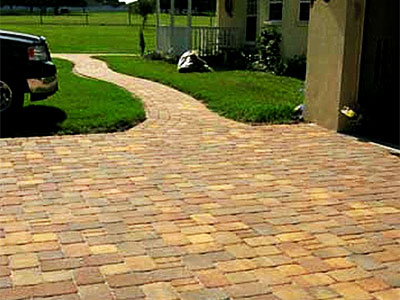 Before you waste your money on another poured concrete driveway that will just crack again in a few years, consider the benefits of interlocking pavers for your driveway. Pavers are one of the best choices for a new or replacement driveway.

If your goal is to have a driveway that looks fabulous, that is durable, dependable, easy to maintain, and classy then pavers are the way to go!

When it comes to customer service and affordability, WE WILL NOT BE BEAT!
CALL TODAY: 504-330-8479.


Driveway Pavers:
Paver driveways add elegance, class, and are pleasing to the eye.
They add exceptional property value.
A paver driveway can be driven on immediately after it is installed; unlike concrete.
Interlocking pavers come in many shapes and colors so you can personalize your style for your driveway to be as original, classy, and personable as you are! Mix and match!!
If a repair is ever needed it is easy and seamless.
They are durable and long-lasting.
Due to the nature of the interlocking paver weather changes do not affect them so they do not crack like concrete.
Driveway Paving
It's not surprising why more and more property owners in New Orleans are shifting to driveway pavers despite the availability of other traditional materials. Pavers simply provide all the benefits that any homeowner or commercial space owner can ever wish for.

But enjoying the best driveway will never be possible with the most durable and sophisticated driveway pavers alone. The best craftsmanship is also necessary. Luckily, Nolascapes is here for that.

When it comes to customer service and affordability, WE WILL NOT BE BEAT!
CALL TODAY: 504-330-8479.


Driveway Ideas Abound
The driveway is a special and important part of any property for two reasons. First, it makes the first lasting impression. How it looks will dictate how other people will see and remember the area. Second, it is a must-be-durable surface that suffers a regular grave burden from heavy automobiles. So, the perfect driveway must be durable while at the same time maintaining good looks. Driveway pavers will make that possible. Each driveway paver is specially manufactured to achieve unsurpassed durability. Each piece is packed enough to withstand moisture.

Unlike a single solid construction, a paver driveway is built with hundreds to thousands of paver pieces. There are porous spaces in between each piece. But don't worry because these spaces are beneficial. They allow water to pass through so that no flooding will occur. They also allow expansion or contraction without causing any cracks in the area.

In case cracking does occur, a replacement will be a lot easier, faster, and cheaper. No need to pour a concrete slab. Simply take away the cracked piece and replace it with a brand new one. Even adding more landscape elements will be more flexible with driveway pavers.


Driveway Materials to meet any aesthetics or needs
When researching and selecting pavers for your driveway, there are some key factors that must be considered in order to make the best decision. Choosing the most appropriate paver product depends on how much vehicle traffic and weight your driveway needs to accommodate. And don't forget to factor in water and rain conditions, as well.


Concrete, Granite, Natural Stone and Brick Driveways
Driveway Pavers are available in various materials that can still be highly economical yet appealing, including interlocking concrete, clay brick, granite, among other types of natural stone. The most important factor is that they will have a much longer life than cheaper, traditional materials due to their strength and durability, especially under heavy vehicular loads.

Clay Brick and Natural Stone pavers are more suitable for driveways, since they contain a very high density and overall compressive strength, plus they are more suitable to extreme weather conditions and rainfall. Not to mention, they are much less prone to fading or cracking than concrete or asphalt.


Permeable Driveway
These days, you can also find some excellent permeable paver products that do handle vehicular traffic loads very well but are designed to filter and drain water away from the driveway to prevent puddles and moisture from setting in and causing sinking, among other potential issues.


Driveway Sealing
Driveway sealing is often overlooked when a project is completed. By sealing your new surface a few things occur. The first benefit is the color is brought out and can be matte, natural or glossy. Secondly by sealing the surface it aids in holding in your polymeric sand. This keeps water and weeds from growing up through the grout lines. More about Paver Sealing ...

When it comes to customer service and affordability, WE WILL NOT BE BEAT!
CALL TODAY: 504-330-8479.


Paver Driveway Designs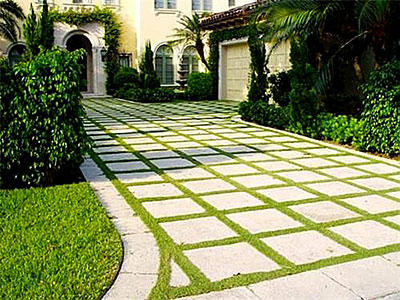 The countless design options alone can make for a perfect match to your home and existing landscaping, paver sidewalk, or paver patio. Create accent borders, striking patterns, and more. Just merely mix and match your design for the most impressive combination for your home.

Let our design and install teams make your Interlocking paver driveway dreams a reality. With over 20 years of experience, a dedicated team of qualified and certified people, and our appreciation for your property's individuality, we will have your paver driveway the envy of the neighborhood!

When it comes to customer service and affordability, WE WILL NOT BE BEAT!

CALL TODAY: 504-330-8479.


Driveway Pavers from Nolascapes
Not all driveway pavers are created equal. The secret lies in how each piece was manufactured. Nolascapes has been installing driveway pavers everywhere in New Orleans for over 20 years. Our long existence in the industry has endowed us with the opportunity to see the good, the bad, and the ugly. We are experienced enough to know which suppliers provide the most durable driveway pavers. And we have partnered with them.

Every piece has an impressive guarantee for your peace of mind. Besides the guaranteed durability, our driveway pavers are also available in a wide variety of options. You may choose based on the shape, color, or pattern.


Driveway Ideas
Don't worry if you have no idea yet what to choose. Our staff will help you choose the best driveway pavers for your area. In the meantime, please feel free to check our portfolio so you can visualize how beautiful your driveway will be with our help.


Driveway Design by Masonry Specialists
As you can see on the portfolio, we don't just create durable driveways with pavers. We also assure that they reflect our client's personality. The endless design possibility should be coupled with great craftsmanship, though. And this is where we are most proud of. Our company has fully trained masonry professionals. We are not just any common contractors out there. We are masonry specialists who can build driveways by prioritizing durability while ensuring beauty.

Nolascapes can design and install driveway pavers and many other hardscaping elements like retaining walls, walkways, pool decks, and patios. You may call or send us an email anytime. Our helpful staff will assist you in getting started with this very important project.

When it comes to customer service and affordability, WE WILL NOT BE BEAT!
CALL TODAY: 504-330-8479.

View our Hardscapes gallery »
Areas We Service in Louisiana