Retaining Walls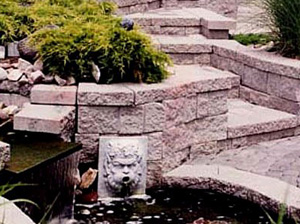 Not all lots are the same. When installing various features on your landscape, you must make sure that the land is graded correctly and is stable. Outdoor structures and living elements need suitable bases to be resilient and safe for use. At Nolascapes Pool & Outdoors LLC, we are a team of highly-skilled, knowledgeable, and experienced hardscaping professionals. Our expertise in this space helps ensure that our clients get high-grade installations.

When planning landscapes, if we notice soil erosion issues or sloping land, we will assess whether the area needs retaining walls built. These specially engineered walls provide stability to the outdoor spaces and help prevent soil erosion. They are useful in residential and commercial landscapes.

Call us immediately if you are struggling with soil erosion problems or have noticed pooling water or mudslides in your outdoor spaces. We can provide you with the best, high-grade retaining wall structures that will be functional and attractive. We make sure that you get resilient and long-lasting walls that increase your property's value


Block Retaining Walls
When designing and building retaining walls, we have detailed discussions with you to understand your needs and preferences. There is a wide range of retaining wall products on the market, and we help you select materials that will work best for your landscape.

We may use a combination of materials or just one, depending on the type of wall you want. You can choose from materials like natural stone, brick, concrete masonry units, and even wood. Our hardscape designers are experienced and skilled, and they can plan multi-use walls that include planters and seating. This helps you use your available outdoor space optimally while increasing the value of the structure built. We can incorporate these walls in new landscape plans or in existing landscapes that need upgrades or improvements.

You can be sure that the features we build will last for decades, and you won't have to worry about excessive maintenance. These sturdy walls will also have drainage systems installed alongside them, which helps avoid flooding in these areas. No matter how big or small the job, we can help with your retaining wall design and installation requirements. Our company caters to residential and commercial clients, and we can handle even the most complex jobs skillfully.


Customized Retaining Wall Construction
We understand that each client will have requirements, and we go the extra mile to meet your needs. Whether you want a traditionally styled wall in natural stone or a modern styled one made using concrete masonry units, we can help. We focus on customization, personalization and aim to delight you with our services. If you are looking for resilient retaining walls that will be a valuable addition to your property, we are the company to call
For additional information about our retaining walls design and installation services, call Nolascapes Pool & Outdoors LLC at this number. Alternatively, send us a message through this Online Form, and one of our team members will contact you within a short time.
Areas We Service in Louisiana