Outdoor Structures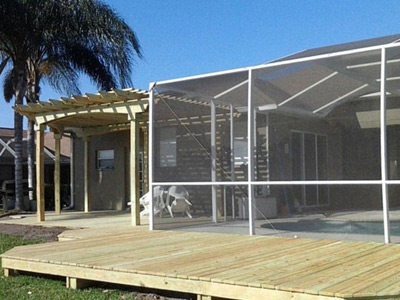 Outdoor structures play a vital role in enhancing a yard or landscape's functionality, beauty, and overall value. At Nolascapes Pool & Outdoors LLC, as the preferred Full-Service Outdoor Living Company in Southeast Louisiana, we understand the significance of well-designed outdoor structures. Outdoor structures such as pergolas, pavilions, decks, covered patios, and other shade structures extend the usable living space of a property. They provide comfortable areas for relaxation, dining, and entertainment, allowing homeowners to embrace their outdoor lifestyle fully. These structures create designated spaces for various activities, making the yard more organized and functional. With carefully crafted designs and premium materials, they become focal points that catch the eye and elevate the overall visual appeal of the outdoor space. These structures can blend with the natural surroundings or create striking contrasts, enhancing the beauty of the entire yard. Adding outdoor structures improves the curb appeal and offers additional living space, making the property more appealing and valuable in the real estate market.


Pergolas
We provide customized pergola services to elevate your outdoor living experience. Our expert designers will plan custom pergolas that perfectly complement your landscape and lifestyle. Whether you seek a shaded retreat by the poolside, an elegant dining area on your patio, or a charming garden centerpiece, we have the expertise to bring your vision to life. Our company uses premium materials and innovative design techniques to construct visually stunning but also durable, and long-lasting pergolas. Our team tailor's pergola services to suit your unique preferences, ensuring the result fits with your existing outdoor space. Our pergola services focusing on customer satisfaction and attention to detail, promise to add beauty and functionality to your outdoor area, making it a cherished oasis for relaxation and entertainment. We can design and install a pergola in a new backyard or landscape or during upgrade projects in existing outdoor spaces.


Pavilions
Our pavilion services are built with the utmost expertise and creativity to bring your outdoor vision to life. Our skilled designers and technicians will work diligently to design and construct stunning pavilions that enhance your outdoor living experience. Whether you desire a spacious entertainment area for gatherings or a tranquil retreat to escape the sun's rays, we design pavilions for functionality and aesthetics. We use high-quality materials and innovative techniques to ensure your pavilion stands the test of time and withstands the elements. With a focus on customer satisfaction and an unwavering commitment to delivering exceptional results, our pavilion services promise to elevate your outdoor space to new heights. Choose the beauty and functionality of a custom-built pavilion, providing shade, style, and endless possibilities for enjoyment in your outdoor oasis. You can discuss your requirements with our knowledgeable team, who will provide you with a custom-designed pavilion for your property.


Decks
We offer comprehensive deck services encompassing various pavers, including concrete interlocking pavers. Our skilled team specializes in designing and installing decks that add beauty and functionality to your outdoor spaces. With an array of paver options available, including concrete interlocking pavers, you can choose a design that suits your style and complements your landscape. Concrete interlocking pavers are visually appealing, durable, and low maintenance, making them an excellent choice for long-lasting outdoor decking solutions. We plan the surfaces perfectly so that your deck flows with your home's styling and layout. From concept to completion, we focus on delivering top-quality craftsmanship and superior materials to create decks that stand the test of time. We will help you discover your outdoor space potential with our impeccable deck design and installation services and transform your outdoor living area into an inviting haven for relaxation and enjoyment.


Covered Patio
We excel in designing and installing covered patios that elevate your outdoor living experience. Our team of experts is well-versed in creating various types of covered patios, each tailored to suit your unique preferences and needs. Whether you prefer a rustic pergola-style patio, a modern retractable awning, or a classic screened-in enclosure, we have the expertise to bring your vision to life. Covered patios provide shelter from the elements, allowing you to enjoy the outdoors comfortably, regardless of the weather. Our craftsmanship ensures that your covered patio is visually appealing, durable and built to withstand the test of time. We use high-quality materials and innovative techniques to integrate your existing outdoor space seamlessly. We will survey the space and existing features to create a covered patio that perfectly complements your outdoor lifestyle and enhances the beauty and usability of your outdoor living areas.


Shade Structure
We specialize in creating stunning shade structures for yards and landscapes that offer respite from the sun and a touch of elegance to your outdoor spaces. Our shade structures are thoughtfully designed to integrate with your landscape perfectly, adding beauty and functionality to your outdoor oasis. We can build a classic pergola to provide partial shade over your patio or a modern retractable awning that offers flexibility in sun protection. Our skilled team can bring your vision to life. We offer various shade options, including gazebos, shade sails, and shade umbrellas, to suit your preferences and needs. These structures are constructed with top-quality materials, ensuring durability and longevity. With meticulous attention to detail, we create shade solutions that provide relief from the sun's rays while enhancing the overall aesthetics of your outdoor spaces. Our skilled and creative team will help you create a shaded retreat that invites relaxation and enjoyment, making your yard and landscape the envy of the neighborhood.

At Nolascapes, we take great pride in delivering exceptional craftsmanship, top-quality materials, and personalized service to exceed your expectations. For additional information on our outdoor structure design and installation services, we invite you to contact us at Nolascapes Pool & Outdoors LLC. Our team of experts is dedicated to creating your dream outdoor living space tailored to your preferences and needs. Whether it is a pergola, patio, pool deck, pavilion, driveway, walkway, or paver steps, we have the skills and experience to convert your outdoor living space or landscape into a captivating and functional space. Our company also covers all work with guarantees so you can be sure that you are getting quality features. You can reach us by calling 504-330-8479, where our friendly staff will be happy to assist you with any inquiries or schedule a consultation. If you prefer, email us through this Online Form, and one of our team members will promptly reply.
Areas We Service in Louisiana