Gunite Pools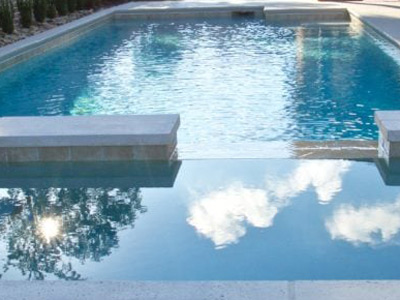 Gunite pools are in-ground swimming pools made of a particular type of concrete called gunite sprayed onto a metal frame using a high-pressure hose, creating a durable and seamless surface. We can customize these pools to any shape and size and provide various finishes and colors to suit your preferences.

Many homeowners prefer gunite pools because they are long-lasting, easy to maintain, and resistant to algae growth. They add value and beauty to any backyard, making them a worthwhile investment for pool lovers.


Your Local Gunite Pool Specialists
At Nolascapes Pool & Outdoors LLC is a leading company in this industry, and we provide custom gunite pools to clients throughout Southeast Louisiana.


Our Gunite Pool Work Process
We follow a time-tested gunite design and installation process that includes the following:


Design and Planning - This involves creating a detailed plan for the pool's size, shape, features, and location on the property based on the customer's preferences and the site's constraints.


Excavation - Our team excavates the area where you need the pool installed and shapes it according to the design plan.


Plumbing and Electrical - We then install the plumbing and electrical systems, including the pool's main drain, skimmers, return lines, and additional features such as lighting or heating.


Steel Reinforcement - The next step involves constructing the steel framework to reinforce the gunite shell and provide structural support for the pool.


Gunite Application - Gunite, a mixture of cement and sand, is sprayed onto the steel framework to create the pool's shell. This process involves multiple layers of gunite, which are smoothed and shaped by hand to ensure a precise fit.


Tile and Coping - The pool's tile and coping are installed along the pool's perimeter, providing a finished edge and a smooth transition between the pool and the surrounding area.


Plastering - The final step is to apply a layer of plaster to the interior of the pool, creating a smooth and durable surface that is also visually appealing.


Fill and Start-Up - Once the pool has been plastered and the plaster has cured, the pool is filled with water, and the system is tested to ensure proper operation. We also give you instructions for pool maintenance and care to keep the pool in top condition.
Cost-Effective Gunite Pools
This process can take several weeks to complete, depending on the complexity of the design and the site conditions. We work systematically, ensuring the timely completion of the job. Our company is known for its reliability, cost-effectiveness, and professionalism.

We prioritize customer service and create the best experiences for our clients, no matter how big or small the requirement. We build gunite pools in existing and new properties and align our services to your needs and schedule, always providing you with the best value.

For additional information about our gunite pools, call Nolascapes Pool & Outdoors LLC at this number: 504-330-8479. Alternatively, message us through this Online Form, and one of our team members will contact you quickly.

Areas We Service in Louisiana