Hardscaping With Concrete Ideas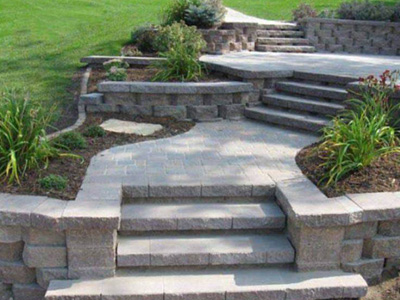 Here at Nolascapes Pool & Outdoors, LLC, we provide our clients with outdoor concrete solutions tailored to their requirements. We provide customers with innovative and long-lasting concrete hardscaping solutions.

Although concrete seems to be a "boring" or "industrial-looking" material, we can use it in several ways to create beautiful outdoor settings on our clients' properties. Here are some concrete hardscaping ideas to change your outdoor areas affordably and quickly:


Decorative Concrete
Today's homeowners, developers, and designers understand the benefits of incorporating concrete into their ideas and plans. Decorative concrete converts standard grey concrete into, among other things, warm brown flooring, expensive-looking slate terraces, and climate-resistant outdoor kitchen counters.

Decorative concrete allows you to choose which shade of red will give your patio or swimming pool deck the effect of Spanish tiles at a fraction of the cost. It's a great way to enhance the appearance of your outdoor kitchen without much trouble. The innovations in concrete tools, concrete tints, stains, patterns, and textures have made concrete the most adaptable, long lasting, and cost-effective medium.


Stamped Concrete
The surface of the concrete is given patterns, texture, and dimension through stamping. This method is often used for outdoor structures that need concrete with a light texture. This method can replicate the appearance of natural stones, pavers, and bricks, making it an economical and low-maintenance alternative to these materials. The nearly limitless design options enable specialists to create one-of-a-kind effects in landscapes and other outdoor features.


Flatwork Concrete
Typically, flatwork concrete refers to concrete slabs that lack finishing being visually acceptable. However, you can choose to treat the surfaces like you prefer to add texture, color, and patterns to them. The concrete foundation is placed first, followed by the finish. While flatwork installation may seem complicated, it is relatively simple. In most instances, the process is quick, and before the surface dries, the concrete is finished and left to cure for approximately 48 hours. The method is also reasonably affordable.


Poured Concrete
With a concrete mixture that needs just water, you can quickly create a small patio, walkway, or stairs that can withstand daily use and severe weather for years. This construction material, also known as poured concrete, is poured into frames or forms where it is set and then finished as required. This basic concrete mixture is often used to construct small outdoor surfaces. Regardless of the overall styling of your landscape, classic poured concrete is a dependable material since you can use it for various elements and features.

We offer high-grade concrete services to residential and commercial clients, so don't hesitate to contact us. We understand that achieving the ideal aesthetic for your outside area is essential to you, and we're here to address questions you may have about starting up with your landscape design.

For more details about our concrete ideas and services, call Nolascapes Pool & Outdoors LLC at 504-330-8479. You can also send us a message via this Online Form; one of our experts will call you within a short time.



Areas We Service in Louisiana